Stocks end higher as Fed signals more aid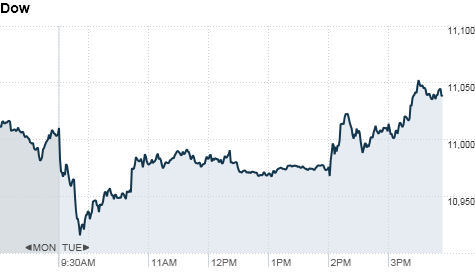 NEW YORK (CNNMoney.com) -- Stocks recovered from earlier losses to close higher Tuesday after meeting minutes suggested the Federal Reserve will act soon to provide additional support for the economy.
The Dow Jones industrial average (INDU) rose 10 points, or 0.1%, after falling more than 70 points earlier in the session. The S&P 500 (SPX) gained 4 points, or 0.4%. The Nasdaq (COMP) added 15 points, or 0.6%.
Fed policymakers continue to believe that the pace of the economic recovery is slowing, according to minutes from the central bank's September meeting.
The minutes also suggest that the Fed is ready to make good on its previous pledge to provide additional "unconventional measures" to boost the economy.
While there is still debate over how to proceed, the minutes revealed that talks in September centered around more large-scale purchases of assets such as U.S. Treasurys, a policy known as quantitative easing.
The minutes did not specify how big the program could be, when it could start or how long it could last. But investors took the notes as further evidence that the Fed will announce plans to buy more assets when it meets next month.
"This communiqué leaves the door open for actions in November," said Lawrence Creatura, a portfolio manager with Federated Clover Investment Advisors.
The dollar fell versus the euro, reversing an earlier advance. Prices for Treasurys remained under pressure, pushing the yield on the 10-year note up to 2.42%.
Meanwhile, investors are also focused on the outlook for the third-quarter corporate reporting period, which gets into full swing this week.
After the market closed Tuesday, Intel Corp (INTC, Fortune 500). reported quarterly profit and sales figures that rose sharply from a year ago and beat Wall Street's forecasts.
Intel is one of several major U.S. companies due to report results this week. JPMorgan Chase (JPM, Fortune 500) reports before the opening bell Wednesday, while General Electric (GE, Fortune 500) and Google (GOOG, Fortune 500) are slated to post results this week.
Corporate earnings have largely exceeded expectations in recent quarters, but investors are eager to hear what companies are doing to boost profits beyond cutting costs.
"Forward-looking comments will be far more important than in past quarters," said Creatura.
Stocks ended with single-digit gains Monday, with the Dow closing above the key 11,000 level for a second straight session.
Companies: Drugmaker Pfizer (PFE, Fortune 500) announced it is buying King Pharmaceuticals (KG) for $3.6 billion, or $14.25 per share. King Pharmaceutical's stock spiked 39.3%.
Shares of Avon (AVP, Fortune 500) gained more than 8% on speculation that France's L'Oreal was considering a takeover bid for the cosmetics and beauty products manufacturer. The rally cooled off as the session wore on with Avon's stock gaining 4% near midday.
Google said it has agreed to invest in a proposed$5 billion transmission system that will connect offshore wind farms built along a 350-mile stretch between New Jersey and Virginia.
Gap (GPS, Fortune 500) said it is reverting to its classic logo, after a new logo it debuted on its website ignited a customer backlash.
Wal-Mart (WMT, Fortune 500) finance chief Charles Holley will speak at a two-day investor conference Tuesday evening. The company just unveiled plans to start selling the iPad come February. The retailer's performance is considered a key measure of consumer spending and the overall health of the economy.
Shares of Transocean (RIG) rose nearly 5% after the Obama administration said it would allow deepwater drilling to resume in the Gulf of Mexico for companies that meet all U.S. safety requirements. The ban on deepwater drilling was put in place earlier this year in response to the BP oil spill.
Diamond Offshore Drilling (DOS), Seahawk Drilling (HAWK) and Noble Corp (NE) were also higher.
Starbucks (SBUX, Fortune 500) and Green Mountain (GMCR) both rallied as investors warmed to the coffee companies. Starbucks got a lift from an analyst upgrade, while Green Mountain was boosted by takeover talk.
World markets: European stocks closed lower. Britain's FTSE 100 lost 0.2%, and France's CAC 40 tumbled 0.5%. The DAX in Germany fell less than 0.1%.
Asian markets ended the session mixed. The Shanghai Composite rose about 1.2%, while the Hang Seng in Hong Kong slipped 0.4%. Japan's Nikkei sank 2.1%.
Large Chinese banks dropped in Shanghai and Hong Kong after Reuters reported that China has temporarily raised reserve requirements on six banks as it tries to temper inflation and sustain the recovery.
Currencies and commodities: The dollar fell against the euro, but remained weak versus the British pound and the Japanese yen.
Oil for November delivery slipped 47 cents to $81.74 a barrel.
Gold futures for December delivery dropped $3.40 to $1,351.20 an ounce.
Bonds: Treasury yields rose as prices fell. Yields on 10-year notes rose to 2.42% on Tuesday, down from a close of 2.39% on Friday. The bond market was closed Monday for Columbus Day.