Verizon to start selling iPad Oct. 28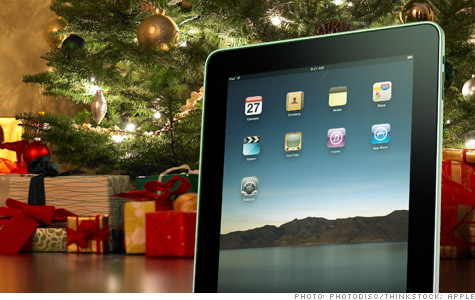 NEW YORK (CNNMoney.com) -- Verizon Wireless will begin selling Apple's iPad at its 2,000 retail stores nationwide on Oct. 28, the companies announced Thursday.
The move ends AT&T's (T, Fortune 500) exclusive grip as the U.S. wireless carrier for Apple's wildly popular tablet, and potentially sets the stage for a broader partnership between Apple (AAPL, Fortune 500) and Verizon (VZ, Fortune 500). The two are widely rumored to be preparing to bring Apple's iPhone to Verizon's network in early 2011.
Verizon Wireless will offer three iPad bundles, all featuring an iPad Wi-Fi model and a separate Verizon mobile hotspot device. The retail prices range from $630 for a 16 GB iPad to $830 for the 64 GB model.
Those prices match the cost of Apple's WiFi + 3G iPads, which come with built-in 3G capabilities running over AT&T's network. Stand-alone, Wi-Fi only iPads -- which Verizon says it will also sell -- begin at $500.
Customers could already run their Wi-Fi iPads over non-AT&T networks using hotspot external devices, like the one Verizon is selling as part of its iPad bundles. But the Verizon partnership marks the first time Apple has linked up to sell its devices with a U.S. wireless partner other than AT&T.
Verizon's mobile hotspot comes with the added bonus of being able to connect up to five other devices.
There are a few drawbacks, though. The battery on Verizon's mobile Wi-Fi device only lasts four hours, compared to the nine to 10 hours Apple estimates iPad users can get from their devices while surfing on Wi-Fi or 3G networks. And although Verizon's smartphone data plans offer unlimited data use, the company isn't being so generous with its iPad data cap. A monthly plan offering up to 1 GB of data will cost an additional $20. That compares to $15 on AT&T for a 250 MB data plan, or $25 for a 2 GB plan.
The new iPad rates are still cheaper, though, than Verizon's current mobile plans for non-phone devices, which start at $40 for 250 MB a month.
Some experts think the competition will be good for consumers.
"Once Verizon starts to see a lot of uptick in iPad adoption, we'll have a price war, which is good for consumers and corporations," said Laura DiDio, principal analyst with ITIC. "Apple is still giving AT&T a bit of a 'favored nation' status for a while, and it'll be up to Verizon to sweeten the pot."
For Apple, it's yet another brilliant marketing move.

"We're thrilled to be working with Verizon Wireless to get iPad into the hands of even more customers this holiday season," Apple chief operating officer Tim Cook said in a prepared statement.

Following that bang with a whimper, AT&T announced Thursday that it too will start stocking iPads in its 2,200 retail stores on Oct. 28. The device will also be on shelves at Wal-Mart (WMT, Fortune 500), Best Buy (BBY, Fortune 500) and Target (TGT, Fortune 500).
"Basically, Apple figured out a way for the carriers and stores to do the selling for it, which is very clever," noted DiDio. "Soon we'll see it on every carrier, which will only fuel price wars and demand -- everyone is going to want an iPad."
The tablet, which first hit the market in April, could get even more appealing when Apple updates to its next version.
Verizon and Apple are rumored to be working on an iPhone that would run on Verizon's forthcoming 4G-LTE network, with broadband-like speeds. Now that Verizon is officially on board as an iPad partner, the next iteration of Apple's tablet could have those same 4G capabilities baked in.