Why one angry banker is suing the Fed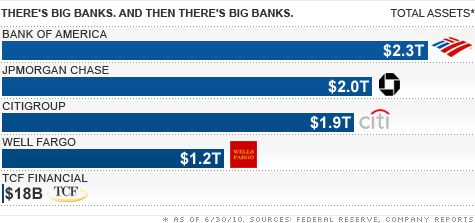 NEW YORK (CNNMoney.com) -- The sweeping financial reform bill passed by Congress this year is often referred to as a Wall Street reform bill. But one CEO of a mid-sized Midwestern regional bank that will be affected by the new law is tired of hearing that.
"We never made a subprime loan. We didn't own derivatives. We fund our loans with core deposits," said Bill Cooper, chief executive of TCF Financial in Wayzata, Minnesota.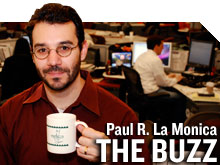 "I have as much to do with Wall Street as the guy who runs our local clothing store down the street. I'm as unhappy with Wall Street as the next guy, but reform doesn't do anything to strengthen the banking system," he added.
In fact, Cooper is so angry about the Dodd-Frank Act, that he's suing the Federal Reserve in order to have one key part of the law struck down. TCF Financial (TCB) filed a complaint Tuesday, alleging that the Durbin amendment to the law is unconstitutional.
That amendment, named for the Democratic Senator from Illinois who proposed it, calls for the Fed to study debit card interchange fees set by credit card network operators Visa (V, Fortune 500) and MasterCard (MA, Fortune 500) and possibly impose limits on them.
The addition of this amendment was widely viewed as a setback for debit card issuers and a victory for retailers, which have to pay the so-called "swipe fees" to bank card issuers like TCF.
Cooper claims that the Durbin amendment violates the Constitution because the bill only targets a small number of banks (those with under $10 billion in assets are unaffected) and therefore gives these banks an unfair competitive advantage. TCF has about $18 billion in assets.
Cooper warned that some banks affected by the Durbin amendment, which could drastically reduce the amount of fees banks like TCF collect from retailers, may be forced to start charging consumers fees to use debit cards -- which is typically a free product tied to a checking account -- or maybe even eliminate them altogether.
"It isn't Congress' job or duty to pick winners and losers that way," he said. "The consumer gets screwed and Wal-Mart and Target make a lot more money."
The Federal Reserve had no comment on the lawsuit.
In a statement, Durbin took issue with TCF's complaint.
"The law in no way addresses the fees TCF, or any other bank, can charge and it does not set interchange rates," Durbin said, adding that the law was a "reaction to the frustrations of millions of merchants and consumers who were getting nickled and dimed by the anticompetitive interchange system set up by big banks and credit card companies -- including TCF."
But Cooper laments that the worst offenders in the card business are the largest banks that dominate the industry -- banks like JPMorgan Chase (JPM, Fortune 500), Citigroup (C, Fortune 500), Bank of America (BAC, Fortune 500) and Wells Fargo (WFC, Fortune 500).
"This affects about 90 banks. But some of the bigger banks are virtually 50 to 100 times bigger than TCF," he said. "When you talk about little vs. big, Durbin may have taken out a gun, aimed at the big banks, missed them and shot me."
Terry McEvoy, a bank analyst for Oppenheimer who covers TCF, said that he understands why the bank is taking such drastic action.
"TCF has a lot to lose and has a CEO who is not afraid to stand up and speak his mind," he said. "This lawsuit highlighted yet again that there is risk to their business, which is largely a retail bank model. The days of free checking may be dead. Banks will have to adapt and customers will have to too."
Will the lawsuit backfire though? McEvoy said that a time where TCF might want to make more acquisitions to grow, picking a legal fight with your regulator might not be the wisest course of action.
But Cooper said that because the Durbin amendment gives interchange fee review powers to the Fed, suing the Fed to block the amendment was its only legal recourse. He added that the bank spoke to the Fed before filing the complaint and that there was no animosity.
Cooper said he feels like he needs to fight the good fight for other smaller banks that are affected by Dodd-Frank. He added that he's confident some of his colleagues may file so-called amicus briefs in support of TCF's complaint.
"Everybody loves that we're doing this. Business is afraid today. They are afraid of government. I am too to be honest with you," he said.
Reader comments of the week. I wrote Wednesday about how Sirius XM might be affected if its top star Howard Stern leaves after his contract expires later this year. Some subscribers said they are ready to bolt if the shock jock does.
"If Howard Stern leaves I'll have to cancel my subscription," wrote Brandon Stafford. "I'll hook my ipod up for music. And if you think I'm going to pay $15 a month to listen to a sport event every once in awhile you're crazy."
Eric Dalton takes it a step further, arguing that worries about Stern's contract having a drag on Sirius XM's financials are overblown.
"I'm one of the two million that will leave is Stern leaves. The service is good, but not worth the subscription fee without exclusive content that I enjoy," he wrote. "If one person is responsible for over $215 million in annual revenue, of course he deserves $100 million a year. That is exactly what the free market dictates in our economic market."
- The opinions expressed in this commentary are solely those of Paul R. La Monica. Other than Time Warner, the parent of CNNMoney.com, and Abbott Laboratories, La Monica does not own positions in any individual stocks.