Bernanke: Case for more Fed action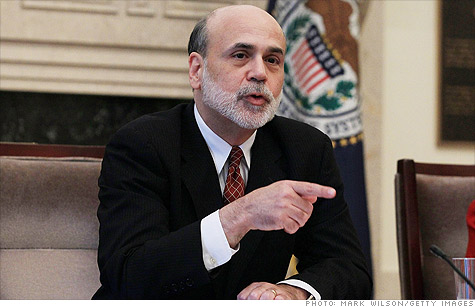 NEW YORK (CNNMoney.com) -- Federal Reserve Chairman Ben Bernanke gave the clearest signal yet that the Fed is about to act to further spur the sluggish U.S. economy, stating that "there would appear...to be a case for further action."
The Fed chairman, in a speech in Boston Friday morning, said persistently high unemployment poses too great a threat to the economy, and that the central bank needs to weigh the risk of weak prices, rather than focus on its traditional concerns about inflation. He suggested the battle against inflation has largely been won by the Fed.
"For the first time in many decades, [the Fed] had to take seriously the possibility that inflation can be too low as well as too high," he said.
The Fed cannot take its usual step to spur spending by cutting its key lending rate, which has been near 0% since December 2008.
But Bernanke's comments Friday set the stage for the Fed to announce plans to purchase additional assets at its next meeting -- a two-day meeting that concludes on November 3. The Fed has purchased nearly $2 trillion in assets over the last two years in an effort to pump money into the economy, a policy known as quantitative easing.
Following the minutes of the Fed's last meeting, and remarks by other leading Fed policymakers, including New York Fed president William Dudley, expectations for another round of asset purchases have increased.
But other members of the Fed, including Kansas City Fed president Thomas Hoenig, have come out against more stimulus efforts by the Fed.
"Our feeling is still that, given the strong resistance to further quantitative easing from some hawkish Fed officials, the program that eventually emerges will be too timid to have any real impact," wrote Paul Ashworth, senior US economist for Capital Economics in a note Friday. "At this stage, $500 billion or even $1 trillion is just not going to do it."
Joseph LaVorgna, chief U.S. economist for Deutsche Bank, said in a note that Bernanke was signaling the Fed would pursue a "buy-as-you-go" approach to additional purchases.
Instead of laying out a specific target for the amount of Treasurys it would buy, as it did in the first round, LaVorgna thinks the Fed will leave a new purchase program open-ended so it could keep buying as long as there is a need.
Bernanke defended prior purchases, saying there is evidence they lowered market interest rates and therefore helped the economy. But he acknowledged it is tough to know just how much of a boost they provided.
"We have much less experience in judging the economic effects of this policy instrument, which makes it challenging to determine the appropriate quantity and pace of purchases," he said.
Kevin Giddis, managing director of fixed income at Morgan Keegan, said the major concern is that the Fed's efforts will prove to be ineffective. He said the low cost of borrowing the last two years has done little to spur either consumers or businesses to start spending again.
"I don't think buying securities is going to pull the economy out of a ditch," he said. "The market is not buying it. We've made money available freely for a while now. The Fed has to start thinking way outside the box. This is not a war where conventional weapons can be used."
Michael Gapen, senior U.S. economist for Barclays Capital, said that additional asset purchases will help, although it won't have as much of an impact as the first round of Fed actions, when the central bank purchases helped fix battered financial markets that had almost seized up.
"At this point in time no one is arguing the level of rates is really the problem," he said. "We see [more quantitative easing] working, but working slowly."
Bernanke also conceded there is a risk if investors start to worry too much about the Fed sparking inflation down the road, which could lead to higher bond yields and borrowing costs for businesses and consumers.
"Even if unjustified, such a reduction in confidence might lead to an undesired increase in inflation expectations," he said.
But the risk of falling prices, known as deflation, clearly is a worry for the Fed chairman, who warned "the risk of deflation is higher than desirable." Falling prices can cause businesses to cut production because they no longer make profits on their product, which can lead companies to lay off more workers.
While Bernanke said he doesn't see evidence of deflation now, he said that an inflation rate close to zero was itself a risk to the economy.
Bernanke's speech initially sent stock futures higher, but stocks were mixed in midday trading. Bonds were also mixed, but the dollar lost ground against major currencies such as the euro and the yen.