Bank of America reports $7.3 billion loss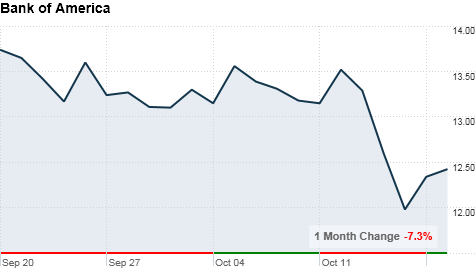 NEW YORK (CNNMoney.com) -- Bank of America reported a net loss of $7.3 billion in the third quarter on Tuesday, citing the recently passed financial reform law for a one-time charge in its credit and debit card unit.
Earnings for the nation's largest bank came in at a loss of 77 cents per share, compared to a loss of 26 cents per share a year ago.
The bank attributed the loss to a $10.4 billion one-time charge that it was taking as a result of new limits on debit card fees that are part of the Dodd-Frank Act.
Excluding this charge, net income was $3.1 billion, or 27 cents per share. That topped analysts' forecasts. According to Thomson Reuters, analysts expected the bank to earn 16 cents per share for the quarter, excluding charges.
Shares of Bank of America (BAC, Fortune 500) were flat in late-morning trading.
The bank reported stronger income over a year ago in its mortgage banking and credit card businesses, and also said consumer credit costs were lower.
"We are adapting to the regulatory environment, credit quality continues to improve, and we are managing risk and building capital. We are realistic about the near-term challenges, and optimistic about the long-term opportunity," CEO Brian Moynihan said in a statement.
As a result of the new legislation, the bank says it is moving to "make pricing more upfront and transparent," and reduce its dependence on penalty fees.
On a conference call with analysts, Moynihan said the move away from harsh overdraft fees was necessary to build the bank's customer base and improve customer satisfaction.
Bank of America has been at the center of the recent foreclosure scandal. Earlier this month the bank announced it was halting foreclosure sales in all 50 states while it reviewed documents. Shares tumbled to a 52-week low as investors worried about the bank's potential financial exposure.
On Monday, the bank announced it was restarting foreclosures in the 23 states where a court must sign off on the proceedings, alleviating fears of a protracted review process.
Moynihan said during Tuesday's call that he expects the full document review to last only a few more weeks.
Asked by Nancy Bush of NAB Research about the impact of the foreclosure review, Moynihan downplayed the long-term implications, but said that the issue must be resolved quickly to restore the overall health of the real estate market.
"I don't think the technical issue is as big a deal," Moynihan said. "The issue of foreclosure is a big deal, and ... we've got to get on with it to restore the health of the market."
According to a spokeswoman for the bank, no errors were found during the review, and fewer than 30,000 foreclosure sales across all 50 states will be delayed as a result of the investigation.
But legal questions persist. Last week, the top prosecutors in all 50 states announced a coordinated probe into improper foreclosures by the nation's largest loan servicers, but stopped short of calling for a freeze on all foreclosures.
Bank of America's results follow better-than-expected profits from rivals Citigroup (C, Fortune 500) and JPMorgan Chase (JPM, Fortune 500). Wells Fargo (WFC, Fortune 500) is due to release its third-quarter results Wednesday morning.