Microsoft's visionary heads out the door
NEW YORK (CNNMoney.com) -- One of Microsoft's key visionary thinkers is making his exit.
Chief software architect Ray Ozzie is retiring from the company, chief executive Steve Ballmer said Monday in an e-mail to employees. Ozzie will stick around a bit longer to manage his transition, but will soon depart, and has no further job plans at this time.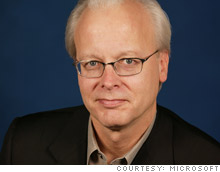 The surprise move eliminates one of Microsoft's highest profile leaders. Famed in tech circles for his role in creating Lotus Notes, Ozzie joined Microsoft as its chief technical officer in 2005, after the company acquired his collaboration software venture Groove Networks.
In 2006, Ozzie inherited the chief software architect role from the man it was created for: Bill Gates, who turned the reins over as part of his plan to relinquish day-to-day control of the software giant.
Ballmer said the company will not seek a replacement for Ozzie and will eliminate the chief software architect job.
Before he departs, Ozzie will focus his efforts on Microsoft's entertainment business. That unit has struggled for years and underwent a management shakeup earlier this year, when leader Robbie Bach left the company.
"While Ray will be onboard for a while, I'd like to thank him today for his contributions to Microsoft," Ballmer said in the memo.
As chief software architect, Ozzie was responsible for driving key elements of Microsoft's technical strategy, including its strategy for competing in the "cloud" computing arena of pervasively connected devices. His departure comes as Microsoft faces growing doubts about its positioning for the smartphone-driven for the future -- and about its leadership.
"Since being at Microsoft, both through inspiration and impact he's been instrumental in our transition toward a software world now centered on services," Ballmer said of Ozzie.