SuperValu stock falls 12% in value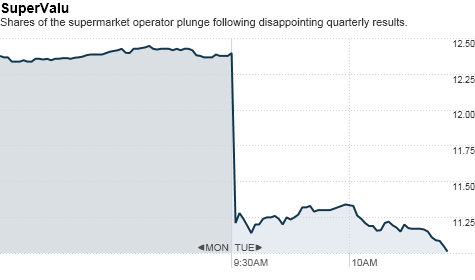 NEW YORK (CNNMoney.com) -- SuperValu shares lost value Tuesday, after the supermarket operator posted a steep loss in the second quarter.
The company logged a second-quarter loss of $1.47 billion, or $6.94 a share; compared with a profit of $74 million, or 35 cents a share, a year ago. SuperValu operates grocery store chains including Shop 'n Save and Albertsons.
Excluding charges stemming from a labor dispute at Shaw's Supermarkets and employee-related costs, earnings in the second quarter came in at $59 million, or 28 cents a share. But that still missed analysts' expectations of 29 cents a share.
On top of missing expectations in the quarter, SuperValu (SVU, Fortune 500) lowered its outlook for the year to a range of $1.40 a share to $1.60 a share -- it initially offered guidance of $1.75 a share to $1.95 a share.
"Our sales performance continues to reflect a difficult operating environment," said SuperValu CEO Craig Herkert in a prepared statement.
"It will take longer than originally anticipated to realize the benefit of the marketing, merchandising and operational initiatives that we continue to build upon," he added.
SuperValu stock slid more than 12% on the news, making it the biggest loser on the S&P 500 Index in mid-morning trading. Shares of the company dropped to $10.84 a share, from Monday's closing price of $12.40.