HP's Palm Pre 2 limps out the door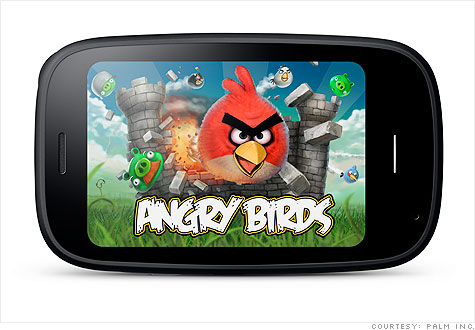 NEW YORK (CNNMoney.com) -- Hewlett-Packard is releasing a sequel to one of the biggest disappointments in the short history of smartphones.
The Palm Pre, which horribly undersold expectations and contributed to Palm's fire sale to HP in April, is getting an update. HP (HPQ, Fortune 500) said Monday that the Palm Pre 2 would go on sale Friday in France, and be released "in the coming months" in the U.S. on Verizon Wireless' network.
What's even more surprising is that the Pre 2 is mostly the same as the Pre, which went on sale in June 2009. HP gave the new smartphone some cosmetic updates, including a slightly streamlined design and an improved glass display. The most significant update to the hardware is a 1 GHz processor in the Pre 2. That's now standard in most high-end smartphones, and is 67% faster than the original Pre's 600 MHz.
The Pre sold fewer than 1 million phones in its first three months it of availability, and analysts say sales have tapered off since then. In contrast Apple says it is activating 275,000 iPhones each day, and Google says more than 200,000 Android phones are activated daily.
"It was probably already in Palm's pipeline, because no one expects that this is going to sell particularly well," said Lloyd Walmsley, senior analyst at Primary Global Research. "From a handset perspective, Palm is done. People in the industry, including carriers, are basically writing it off."
But the announcement wasn't a complete fizzle. The Pre's software is getting a nice overhaul, with an update to WebOS 2.0.
HP says the new version of WebOS -- also due "soon," with an exact timeframe not yet announced -- will bring to its devices many of the features available to the iPhone and Android phones. Some of the new features include true multitasking, synchronization between contacts and social networks, HTML5 support, and universal search.
WebOS 2.0 will be offered as an update to current Pre, Pre Plus and Palm Pixi smartphones in the coming months, HP said.
HP is widely believed to have bought Palm for its software, not its hardware. WebOS was critically acclaimed for its ease of use and intuitive features, but the Pre device itself wasn't universally loved. It is much smaller than most other smartphones, with just a 3.1-inch screen, and the keyboard is difficult to use.
Palm commands just 4.6% of the U.S. smartphone market, which puts it in fifth place behind Research In Motion, Apple, Google and Microsoft, according to comScore.
Still, HP has said that Palm's WebOS is salvageable. The company plans to integrate WebOS into new devices like tablets, HP-branded smartphones, televisions, printers and, eventually, other connected devices.
But unless HP has some surprising success with the Palm Pre 2, a Palm Pre 3 is unlikely.