Graco recalls 2 million strollers; cited in 4 deaths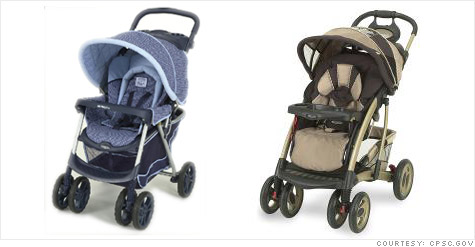 NEW YORK (CNNMoney.com) -- Graco Children's Products is recalling about 2 million strollers that have been blamed for four deaths, the company and the Consumer Product Safety Commission said Wednesday.
The CPSC said the recall applies to Quattro and MetroLite strollers, which caused four infant deaths from strangulation. Deaths occurred between 2003 and 2005.
In addition to the infant deaths, these products have also been blamed for six injuries -- including five infants who became entrapped, resulting in cuts and bruises, and one infant who had difficulty breathing.
The recall applies to Graco Quattro Tour strollers manufactured prior to November 2006, and MetroLite strollers made before July 2007.
Graco Children's Products is a unit of Newell Rubbermaid (NWL, Fortune 500).
"We take this issue very seriously," said Newell spokeswoman Connie Bryant. "As parents ourselves, the safety of children is our top priority and we continue to work to make Graco the most trusted brand in juvenile products."
Graco has recalled a wave of children's products so far this year, including 1.5 million strollers in January, for risk of fingertip amputation; 1.2 million high chairs in March, for risk of tipping over; and 217,000 cribs in April, for risk of strangulation.