China's economy cools in third quarter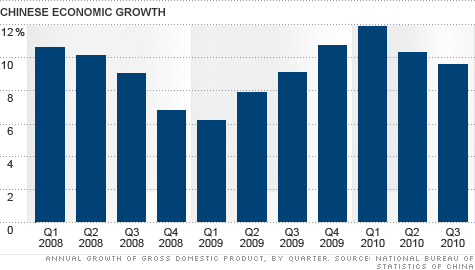 NEW YORK (CNNMoney.com) -- China's economic growth slowed for the second quarter in a row, cooling fears that its economy is growing at an unsustainable pace.
China's gross domestic product, the broadest measure of economic output, grew at an annual rate of 9.6% during the third quarter of 2010, according to figures from the National Bureau of Statistics released Thursday.
While that rate is still considered rapid compared to sluggish growth in western economies, the pace has slowed somewhat, down from a surging 11.9% growth rate at the beginning of the year.
"The earlier jitters in China's economy have passed and the economy is growing pretty rapidly at the moment," said Mark Williams, senior China economist for Capital Economics. "That's a positive for those countries that are supplying China with goods, and at the same time, China's trade surplus is also growing. That means that China's exporters are also still doing very, very well."
Separately, China reported that consumer prices rose 3.6% compared to a year ago, up from 3.5% in August. The increase in inflation was due entirely to higher food prices caused by flooding in the southern part of the country, Williams said. Non-food inflation fell for the second month in a row, to 1.4%.
Leading the global recovery: Forecasts from the International Monetary Fund project China is on track for staggering 10.5% growth overall in 2010, far outpacing the 4.5% growth for the global economy as a whole.
Amid that global imbalance, China has taken on a leadership role as the key driver of a worldwide recovery. But its steep growth has also led to fears that the Chinese economy might be expanding too quickly.
Those fears recently prompted officials there to implement policies to slam on the brakes in some sectors including the overheating real estate market. And on Tuesday, the People's Bank of China added to those efforts when it raised its benchmark interest rate in a surprise effort to further curb lending in the country.
On the other hand, economists have worried lately that tighter policies could result in a so-called hard landing, bringing the Chinese economy to a halt.
But Thursday's report shows the Chinese economy is still expanding rapidly.
While annual growth near 10% is not unusual for China, it's still far faster than the 7.5% rate the Chinese government aimed for when it set its 5-year goal back in 2006, said Damien Ma, China analyst with the Eurasia Group.
"China has consistently overshot its plan for the past decade, so it's no surprise there are strong voices advocating for slower growth," he said.
Currency wars: China has come under fire from foreign governments for not allowing its currency, the yuan, to appreciate against freely-traded currencies. Since an artificially low yuan makes it harder for other countries to compete with Chinese exports, U.S. officials and Congress have been pushing China to allow its currency to rise.
The rapid growth rate reported on Thursday could continue to fuel those fears.
"A lot of people outside China, particularly in the United States, will look at China's growth rate and suggest China is doing very well and surely can afford to move a lot faster on currency reform than it has done so far," Williams said.
The yuan has appreciated 2.5% since China announced it would let its currency trade more freely against the dollar in June, he said.
Industrial production and retail sales: China's industrial output was weaker than expected in September, but balanced by strong retail spending.
Industrial production grew at an annual rate of 13.3% in September, down from 13.9% in August. Retail sales rose by 18.8% year-over-year, up from an 18.4% growth rate in August.
-- CNN's Jo Kent in Beijing contributed to this report