Hobby Lobby's religious real estate hobby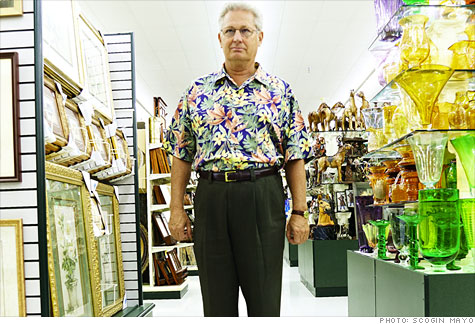 FORTUNE -- Stan Mattson was touring the Berkshire hills in the fall of 2007 when he arrived at a certain windy hilltop overlooking the Connecticut River in Northfield, Mass. He stopped the car, and got out to have a look around. The scene he beheld "was breathtaking," he recalls: rolling lawns, a magnificent scattering of stately brick and stone edifices, some of them more than 100 years old, and not a soul in sight. Mattson, who directs the C.S. Lewis Foundation in Redlands, Calif., thought he had stumbled into an illustration from The Lion, the Witch and the Wardrobe. "It just felt so Lewisian," he says. Powerfully moved, he knelt on the grass and he prayed.
Mattson had long been on a mission to honor Lewis -- a noted theologian and the author of the Chronicles of Narnia -- by founding a college where Christian scholars would read the great books and immerse themselves in the visual and performing arts. His plans had lately reached the stage where he was shopping for a campus. This one -- originally the Northfield Seminary for Young Ladies, later part of Northfield Mount Hermon School -- had been on the market since 2005. Initially, Mattson had had no interest. The setting was too remote, and the asking price, even at $20 million (recently reduced from $40 million), was out of his range. But on that magical fall day something clicked. Praying, he asked for guidance and a benefactor. "If by providence we are given this property," Mattson vowed, "we will embrace it."
The answer to Mattson's prayers turned out to be a little-known clan of fabulously wealthy Oklahomans whose patriarch, David Green, has a net worth estimated by Forbes at $2.6 billion. The family wealth initially had nothing to do with Oklahoma's oil or gas. The Greens are arts-and-crafts tycoons. David Green opened his first Hobby Lobby store in 1972 with a $600 bank loan, which he quickly repaid. He's been expanding ever since along a sweeping radius that originates at the company's humongous manufacturing and distribution center in Oklahoma City and today extends 1,700 miles in every direction, encompassing 456 stores in 39 states, more than 18,000 employees, and $2.2 billion in sales.
And the thing's still growing. Privately held Hobby Lobby's same-store sales rose 6% last year, according to Green, while its overall revenue was up 10%. The company has no presence yet on the West Coast or in New England, but "we'll get there," Green promises. He says the first California Hobby Lobby will open in Visalia, not far from Fresno, in January, and stores will be in Connecticut, Rhode Island, and New Hampshire by the end of 2011.
At 68, Green still has a full head of gray hair that he sweeps straight back, and piercing dark-blue eyes that grab yours and don't let go. He is explicit when it comes to matters of faith ("We would like to tell the world about Christ, the one person we think is the answer and only answer") and vague about his bottom line ("Heh-heh, we're profitable"). This much we know. Hobby Lobby and its several spinoffs (including oldest son Mart's chain of Christian bookstores) generate plenty of cash to support a family hobby: buying and donating real estate for Christ.
Green never made it past high school, nor did his other son, Steve, president of Hobby Lobby, or his daughter, Darsee Lett, who runs the art department. Mart, who Green says will probably replace him as CEO when he finally retires, dropped out of college after one year. But that hasn't stopped the family from taking a keen interest in uncovering undervalued real estate and donating it to colleges and universities. Over the past 12 years, Green says, they've done more than 50 deals, worth more than $300 million.
In 2004 the Greens bought an old Ericsson (ERIC) cellphone plant in Lynchburg, Va., for $10.5 million and gave it to Jerry Falwell's Liberty University, which built a new law school on the site. A couple of years later they paid a New York hedge fund $3.5 million for the buildings and grounds of bankrupt Bradford College in Haverill, Mass., invested more than $5 million in renovations, and late last year turned over the deed to Zion Bible College.
Sometimes they buy on behalf of churches. Last spring Rick Warren, pastor of the Saddleback megachurch in Orange County, Calif., phoned the Greens to say that he was planning an Easter Service for 50,000 at Angel Stadium in Anaheim, and did they want to contribute something to the gift bag for worshipers? Oh, and by the way: Warren was looking at a piece of property in nearby San Juan Capistrano belonging to televangelist Robert Schuller's financially strapped Crystal Cathedral Ministries. It's 140 acres, he said. Just half an hour's drive from Saddleback's main sanctuary. Really an extraordinary opportunity. "Well," said Green, "you need to let us look at it." They looked, they liked, they paid $22 million, and now Saddleback has a new retreat center.
Oral Roberts University, in Tulsa, already had a perfectly nice campus when the Greens showed up there in 2008. It was, however, staggering under the strain of a rip-roaring sex-and-embezzlement scandal that had so drained its coffers that ORU was weeks away from having to close its doors. "We just grieved for those kids," says Green. "We felt like we were being led by the Lord to do something." What they did was hand over $70 million in cash. And that was "just a down payment," says Green, sighing; he's still writing checks. Not blank ones, though. The ORU board of regents had to agree to implement a strict recovery plan devised by the Greens, and to install Mart as its new chairman.
The Greens trace their emergence as big-league donors to a difficult period in the late '80s, when they let Hobby Lobby's debt get out of hand. The banks were threatening to shut them down. "We've become slaves to our lenders," Steve counseled his dad, citing Proverbs 22:7. It took years to dig themselves clear, but today, says Green, Hobby Lobby has zero long-term debt and a cash-flow current whose strength we can only guess at.
Much of it goes to fuel expansion. So far in 2010, never mind the struggling economy, Hobby Lobby has opened 26 new stores, all without having to borrow any money. A portion goes to other investments, including real estate in Costa Rica, natural gas in Pennsylvania, and a ConAgra (CAG, Fortune 500) sweet potato processing plant in Arkansas. And some large portion -- more than a tithe, Green assures me -- goes to Christian charities. "In Asia we've been able to put the Gospel into over 300 million homes," Green says. By Asia he means China, where much of what Hobby Lobby sells originates, though he'd rather not feature that fact.
But real estate -- that's the fun part. By the time the Greens closed on the Northfield campus late last year, the previous owners had grown weary of spending millions on annual upkeep and the price had come way down. They got the core of the campus -- 48 buildings and 217 acres, without the surrounding woodlands -- for $100,000. They'll spend $6 million on renovations, Green estimates. Assuming Mattson can do his promised part (he needs to raise $15 million in seed money, "something we're confident God's going to provide," he says), C.S. Lewis College will welcome its first freshman class in September 2012.
"What's our motivation?" asks Green. "Our motivation is the ministry." No doubt. There is a notice to vendors on the wall at Hobby Lobby headquarters prohibiting "gifts of any value" to employees, who must "pay their share of lunches" and shouldn't be expected to accept dinner invitations no matter who's paying, "as they will be with their families during the evening." Hobby Lobby stores close at 8 p.m. and are never open on Sundays. Starting pay for full-time employees is $11 an hour, which exceeds the federal minimum by 52%. "I think our belief in Christ and our giving is the reason why we're where we're at," says Green. "I think it goes hand in hand." Indeed, when Green dies, ownership of Hobby Lobby will pass to a trust, eliminating any possible means or motive on the part of his descendants to sell, go public, or otherwise interrupt the virtuous cycle. And he's already made it clear that he won't be leaving any money to his kids: "There's a tree and there's fruit. They're welcome to the fruit, which they earn. But not the tree. The tree belongs to God."
That said, business is business, and a deal's a deal. When the Greens make a gift of real estate to a deserving non-profit, they're entitled like anyone else to a tax write-off based on the assessed value at the time of the handover. "Lots of times the value is greatly enhanced if it's a going concern," says the Greens' lawyer, Brad Martin, who advised on the Northfield purchase. When all is said and done, the Greens will have invested just over $6 million in Northfield. And when it's reassessed? "I would be surprised if it wasn't valued between $20 million and $30 million," says Martin. Hallelujah!