To get more done, work less. Really?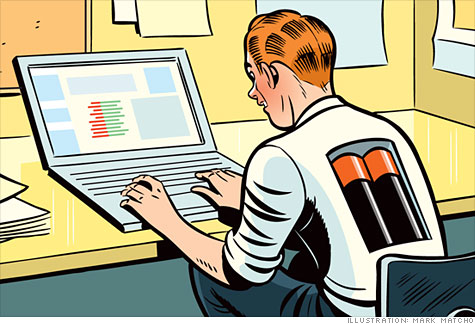 FORTUNE -- It was barely 9 a.m. and I was already exhausted. I'd slept just five hours, skipped breakfast, and schlepped through traffic before arriving at my destination: a seminar on how to be a more energetic worker.
The two-day workshop in downtown San Francisco was hosted by the Energy Project, a New York City -- based group that promises a "detailed blueprint for fueling a fully engaged workforce." Its philosophy: Instead of working at full speed, we are at our best when we take breaks every 90 to 120 minutes, when our four basic needs (physical, emotional, mental, and spiritual) are met, and when we tackle one task at a time. Sounds simplistic, but the Project says its work is rooted in the "multidisciplinary science of high performance." Its founder, Tony Schwartz, has written a book based on these findings, The Way We're Working Isn't Working: The Four Forgotten Needs That Energize Great Performance.
First on the list of touchy-feely activities was an "energy audit." I soon found out that I have a "significant energy deficit" because I don't get at least seven hours of sleep, and e-mail distracts me. Luckily, some two hours in, our facilitator, Annie Perrin, called a break -- not just any break, but 20 minutes, enough time to go to Starbucks and buy and drink a latte. Perrin, a former psychotherapist, taught us to build "highly specific positive rituals" (like a weekly spinning class or expressing appreciation -- she had us write a thank-you note to a loved one).
The Energy Project eats its own dog food. Not only did we take short breaks throughout the workshop, we also enjoyed hour-long lunches and relaxation exercises. The idea: While you should be fully engaged when working, you should also be fully disengaged when resting. Yet most of the 10 attendees -- including a human resources exec from Disney (DIS, Fortune 500) and a former 49ers football player -- whisked out their CrackBerrys at each break.
And there's the rub. While most of us know we should be taking e-mail breaks and eating out of the office, few of us feel we can. The average office worker receives 50 to 100 e-mails a day and scarfs down a sandwich in front of the computer. That's the norm, not naps and long lunches.
Despite my doubts, I decided to take the Energy Project's teachings for a spin. After all, its productivity gurus have been hired at Google (GOOG, Fortune 500) and Sony Pictures (SNE). So I forced myself to take a (real) break every hour and a half while working on this article. It wasn't easy, but after a while I stopped feeling guilty and found plenty of nonwork things to do -- calling a friend or reading a magazine. Though I ended up spending less time in front of my computer, I was faster and more efficient.
One lesson I probably won't be learning is scheduling set times to check e-mail. Where I live, a prompt response is expected, even among friends. And telling my editors that I respond twice a day would be a career killer. So while the Energy Project's workshop left me inspired, it was a little short on everyday "action items," and the glow faded after a few days. Yet I have been able to take longer, more regular pauses while writing -- which reminds me: It's been nearly two hours since my last break.