Brands of Mad Men: Cigarettes and cancer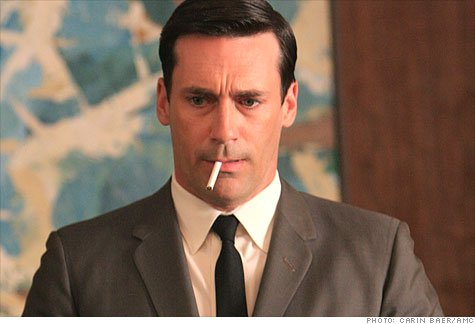 FORTUNE -- Hopefully viewers of Mad Men have calmed down from the rollercoaster of Sunday's season finale by now. While the big questions will keep us in suspense for season five, Fortune has your answers on the brands of the last episodes. (Catch up with our highlights of the first three seasons' brands in Mad Men is back, and so is product placement, and the earlier episodes from this season in Mountain Dew and Mad Men: The stories behind the pitches.)
Episode 10: North American Aviation, Lucky Strike
Season four featured personal disaster, with Draper hitting rock bottom as he struggles with his past and the inability to overcome his past and find stability. In Episode 10, the storm engulfing Don's personal life washes out what should be a great step forward for Sterling Cooper Draper Pryce. The firm lands a $4 million account with North American Aviation to promote its technology in aeronautics and defense. In a moment of triumph for Pete, Draper has to pull the plug to protect his own skin from the Feds.
In a move disastrous for SCDP, the fictional character Lee Garner Jr. also drops the bomb on Roger Sterling that Lucky Strike is moving to join the other American Tobacco brands at another agency.
North American Aviation may have been a giant of the 1960's, but by 1967 it had merged into Rockwell International, which was acquired by Boeing (BA, Fortune 500) in 1996. For its part, Boeing seems to enjoy its connection to its predecessor. The company's brand management office was buzzing about the Mad Men appearance, of which they had no prior knowledge. A brand spokesman says that since NAA seems unlikely to return to the show, they would not reach out to AMC, but would be happy to provide "heritage" materials if asked in the future. In the meantime, Boeing sells NAA merchandise in its stores and online, and hopes to connect to the Mad Men reference on its Facebook page.
As Fortune has noted, Lucky Strike as a Garner family operation was a Mad Men invention that has provided the show with important material throughout its run. In this episode, we hear mention of Lucky Strike's new role as a piece of the American Tobacco Company, the real and one-time owner of "The Lucky Strike Company," which is now a subsidiary that has bounced around in ownership over the years.
Episode 11: Playtex
In season two, Playtex executives are impressed by a Jackie/Marilyn pitch based on the premise that women want to be either Jacqueline Kennedy or Marilyn Monroe. Two seasons later, Peggy's romantic pitch for what seem to be rather unromantic Playtex gloves lacks Don's personal charm -- Peggy even presents with a lipstick stain on her teeth -- but she gets the better result.
Playtex apparel is now one of the brands of Hanesbrands Inc (HBI) (Playtex infant care and feminine hygiene products are a separate company). Hanesbrands said it did not "pay to play" with any sort of brand integration. Though the company does get release requests periodically, it does not proactively look for involvement in television shows, and a spokesman could not think of any current efforts for Hanesbrands product placement. While Hanesbrands noted that Playtex was the first bra brand to run national advertising, it said it did not expect to amp up its involvement, as "brand positioning has changed quite a bit since [the 60's]."
Episode 12: Heinz
Desperately seeking new business, Draper begs Faye Miller, market research consultant and sort-of girlfriend, for introductions. She throws him a bone through a meeting with Heinz's vinegars, sauces, and beans department, which resents receiving second-rate brand attention compared to Heinz (HNZ, Fortune 500) ketchup. The executive shares with Draper his dream of restoring Heinz beans to number-one priority within the company.
Any hot dog eating eight-year-old can tell you that the Heinz beans crusade for recognition within the company has wholly failed. Heinz, does, however, still sell beans. The company said that it was "very pleased" to appear in Mad Men, but Heinz has no partnership or involvement with AMC.
Episode 13: The American Cancer Society; Topaz pantyhose
Draper's page-long open letter in The New York Times bashing tobacco advertising receives ridicule in episode 12, but by the season finale he's persuaded to meet with one group intrigued by his stand: the American Cancer Society. Draper proposes an anti-smoking campaign targeting teenagers. His sneaky pitch, however, demonstrates a subtlety not always found in such campaigns today.
The American Cancer Society was not aware it would appear on Mad Men and did not pay for its involvement. But the organization has been excited to be involved. "To say that we were elated would be an understatement," says Andy Goldsmith, vice president of creative and brand strategy.
After its appearance, the American Cancer Society posted a compilation of period public service announcements through its social networking pages, and has reached out to AMC about supplying archival materials. Goldsmith said they hope to sit down with the show's creative to discuss how a return appearance next season might progress.
Also during the final show, Ken Cosgrove's inside knowledge that Topaz Pantyhose has fired its ad agency earns Peggy a meeting with Topaz executives. Now a veteran pitch-maker, Peggy nails the account, Sterling Cooper Draper Pryce's first since their near collapse.
Topaz appears to be the invention of Mad Men's creative team. Pantyhose did first gain popularity in the 1960s, but for a real-life Topaz name, one must choose from the 1969 Hitchcock film of that name, or an Irish petroleum retail chain.