Savvy Spending: Herman Miller's new office chair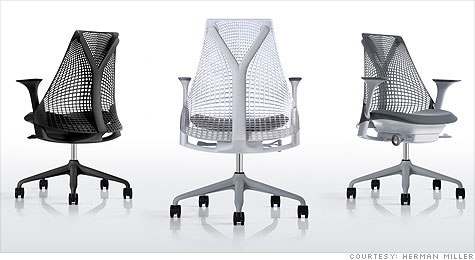 NEW YORK (CNNMoney.com) -- Scoot over Aeron, a stylish new ergonomic desk chair is rolling on to the scene.
On Dec. 6, Herman Miller is launching a new task chair to give its 16-year-old Aeron a competitor.
At $399 -- more than half off the $860 Aeron -- the new SAYL is priced to compete with some high-end offerings from Staples and Office Depot. But it is also stylish enough to go toe-to-toe with other high-design task chairs.
"It's a pretty amazing feat that they got it down to that point without sacrificing the look," said Jill Singer, former managing editor of Industrial Design magazine.
Design Within Reach is already pre-ordering the chair and is excited about the price, acknowledging that customers have been cutting back on blockbuster purchases.
"We're thrilled," said Kari Woldum, vice president of merchandising for DWR, the largest retailer of Herman Miller products. "The biggest thing for us was the approachable price point."
Of course, it's too early to tell whether the SAYL could land a spot in the Museum of Modern Art's permanent collection, as the Aeron did. But it does look nice. It also comes in nine colors, which can be mixed and matched between the seat, back, and arm pads for a funkier look.
"The idea was really simple, we were interested in design attainability," said Jack Schreur, the vice president of North American seating for Herman Miller. Schreur, who sits in a $1,200 Embody chair, will be introducing the SAYL to a new market segment from what he has worked on in the past.
Although we haven't had a chance to give it a test sit, by all accounts the chair is comfortable too. There's sacral, lumbar and spine support combined with "hinge points" located at strategic spots so it can adapt to a person's shape and movements.
"We watched how people sit and work," says Yves Béhar, designer of the chair. "We did over a thousand sketches. We built over 70 prototypes. We reexamined everything from back construction to the smallest knobs."
The SAYL was inspired by suspension bridges and the name is a reference to the sailing ships that pass underneath. The "I" in sail was replaced with a "Y" because of the Y-like structure of the chair back, according to the company.