Honda recalling nearly half a million cars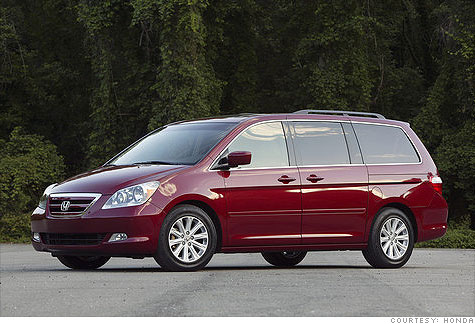 NEW YORK (CNNMoney.com) -- Honda has announced a recall of nearly half a million vehicles with brake problems, just days after Toyota announced a similar recall.
The U.S. division of the Japanese automaker Honda Motor Co (HMC). said it was recalling 471,820 Odysseys and Acura RLs, made from 2005 to 2007, due to concerns of possible degradation to the brake systems.
The automaker said it was concerned about the use of non-Honda branded brake fluid. Honda said that its own brake fluid contains polymers that act as lubricants. The use of non-Honda brake fluid could cause a rubber seal in the brake master cylinder to dry out, possibly resulting in a fluid leak, the company said.
"A leak of brake fluid could lead to a change in brake fluid feel and, overtime, a degradation in braking performance, increasing the risk of a crash," said Honda, in its recall notice.
On Oct. 21, Toyota Motor Sales, the U.S. division of Toyota Motor Corp (TM)., said that it is recalling 740,000 vehicles with potentially unsafe brakes. Toyota's description of the problem was very similar to Honda's. Last week, Honda said it would be making a recall announcement similar to Toyota's.
The Toyota recall applied to Avalon models built from 2005 through 2006, non-hybrid Highlanders from 2004 through 2006, the Lexus RX330, and 2006 models of the Lexus GS300, IS250 and IS350.