Stocks set to open higher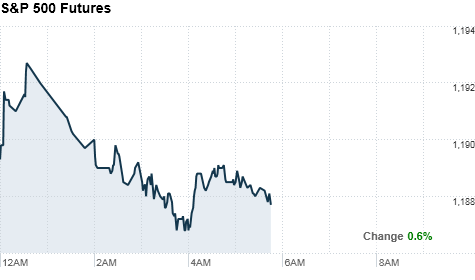 NEW YORK (CNNMoney.com) -- U.S. stocks were set rise at the open, as investors prepared themselves for a busy week of quarterly results and the midterm elections.
Dow Jones industrial average (INDU), S&P 500 (SPX) and Nasdaq (COMP) futures were all higher ahead of the opening bell. Futures measure current index values against perceived future performance.
Stocks ended mixed Friday, as investors balanced strong U.S. corporate earnings against currency tensions at the G-20 summit in South Korea.
With the meeting of finance ministers wrapped up, investors are turning their attention back to a slew of corporate results.
"The bottom line is we are seeing risk coming back into the market due to the failure of the G-20 to produce any concrete results," said Peter Cardillo, chief market economist for Avalon Partners.
Company results have exceeded expectations so far this season, and investors are looking for that trend to continue, Cardillo said.
Economy: Federal Reserve Chairman Ben Bernanke said in a speech before the market open, that a federal agency review of foreclosure procedures at the nation's largest mortgage servicers should be completed next month.
Bank stocks have been under pressure in recent weeks, as mortgage servicers reviewed documents after allegations of sloppy paperwork surfaced.
In its October industry survey, the National Association for Business Economics (NABE) said Monday that employment conditions improved in the third quarter to the highest level since the start of the 2008-2009 recession.
Looking ahead, the survey also showed expectations for hiring over the next 6 months rose to the highest level since 2006.
The National Association of Realtors will release its September report on existing home sales at 10 a.m. ET. Analysts surveyed by Briefing.com expect sales to increase to an annual rate of 4.25 million, up from 4.13 million in August.
Companies: After the bell, Texas Instruments (TXN, Fortune 500) will report its third-quarter results. Analysts expect the company to report earnings per share of 69 cents.
Office Depot (ODP, Fortune 500) announced in a statement that CEO Steve Odland, who has led the company since 2005, is resigning his post effective Nov. 1.
The office supplies retailer also said it expected earnings per share of 18 cents for the third quarter. Analysts surveyed by Briefing.com had expected a loss of 2 cents per share. Shares of Office Depot were up more than 8% in premarket trading.
World markets: European stocks rose in midday trading. Britain's FTSE 100 was up 0.6%, and Germany's DAX edged higher to 0.6%. In France the CAC 40 was up 0.5%.
Asian markets ended the session mixed. The Shanghai Composite rose 2.6%, while the Hang Seng in Hong Kong was up 0.5%. Japan's Nikkei dropped 0.3%.
Currencies and commodities: The dollar edged lower against the euro and British pound and fell against the yen to ¥80.41, a 15-year low.
Oil for December delivery gained $1.04 to $82.73 a barrel.
Gold futures for December delivery rose $19.60 to $1,344.70 an ounce.
Bonds: The price on the benchmark 10-year U.S. Treasury rose, pushing the yield down to 2.53% from 2.56% late Friday.