Fiscal fluff 'n stuff on the campaign trail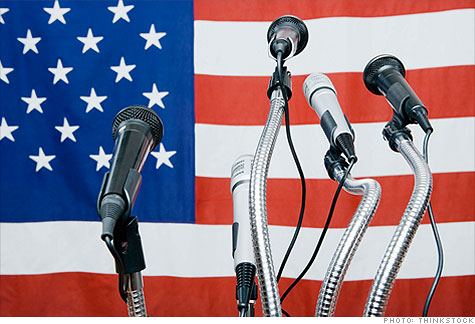 NEW YORK (CNNMoney.com) -- Challengers running for Congress and lawmakers trying to hang on to their seats have had plenty to say about federal debt and spending this election season.
The ideas sound righteous and, in some cases, may even be the right thing to do: Set caps on federal spending. Find ways to cut the defense budget. Give President Obama's fiscal commission a fair hearing.
Unfortunately, the good ideas are the outliers.
When it comes to making a serious dent in the country's projected deficit, many of the proposals being touted on the campaign trail are sheer fiscal fluff.
At best, they are symbolic; at worst, said one fiscal expert, they are "pablum."
Championing the little things
"Put a hiring freeze on non-security personnel. And then, of course, when we're talking about cutting government spending, we've got to talk about waste, fraud and abuse," Delaware Tea Party candidate and GOP nominee for Senate Christine O'Donnell said in a debate on CNN.
O'Donnell is far from alone in her views.
California Senate Republican candidate Carly Fiorina expressed similar preferences in a radio debate with her opponent, Sen. Barbara Boxer, a Democrat. Fiorina called for a freeze in civilian worker pay and a slower hiring rate of federal workers.
Boxer, meanwhile, said she supports reducing government waste and ending tax breaks for companies that send jobs abroad.
In the Illinois Senate race, Democratic candidate Alexi Giannoulias and his Republican opponent, Rep. Mark Kirk, have both expressed distaste for earmarks.
That's nice. But no one really agrees on what "wasteful" spending is, and when lawmakers do, it's barely a rounding error in reducing the debt.
"Eliminating waste, fraud, abuse, earmarks and tax evasion will not solve our fiscal problem," according to the bipartisan Committee for a Responsible Federal Budget.
Preaching pay-go
A lot of candidates of all political leanings are preaching "pay go" -- a rule requiring that lawmakers pay for any new spending or tax cuts by pulling from elsewhere in the budget.
Technically, it's fiscally responsible. But it's a very tepid response to the often-asked question, "How would you reduce deficits?"
All pay-go does is keep future deficits from getting worse than they are already slated to be. And they are slated to be pretty high thanks to automatic growth in entitlement spending.
Redirect stimulus money
A number of Republican and Tea Party candidates, including Connecticut Senate Republican candidate Linda McMahon, have called for "unused" stimulus funds to pay down the debt.
Just how much money is that? Out of the original $787 billion approved for stimulus, the White House Recovery Office says there's $18 billion left after counting both the money that's actually been spent to date and the money that has already been assigned, if not yet spent, on contractors and states.
Mind you, $18 billion is not chump change in any context. But in the face of public debt topping $20 trillion by the end of the decade, it doesn't really rock a deficit hawk's world.
"One can argue that the stimulus was a waste of money and that any unspent funds should be canceled for that reason. But doing so would not have a meaningful effect on the deficit," Robert Bixby, executive director of the Concord Coalition, a fiscal watchdog group.
Pledging the moon
"I wouldn't cut one [Social Security] benefit. I wouldn't raise the retirement age. And I wouldn't send it to Wall Street," Rep. John Boccieri, a Democrat from Ohio who is running for re-election, told Fox's Neil Cavuto earlier this month.
Boccieri is among 200 Democrats -- including 82 House candidates and 11 Senate candidates -- who have signed a pledge "promising to protect Social Security from proposed Republican cuts."
Even some Republicans are striking the same position. Two Arizona Republican candidates running for Congress -- Paul Gosar and Tom Ganley -- say they oppose raising the retirement age and privatizing Social Security accounts. They also oppose raising taxes to shore up the program's long-term shortfall.
Meanwhile, a lot of candidates are pledging not to raise taxes. And some are pledging not to cut Medicare.
Rather than saying what they won't do, the Committee for a Responsible Federal Budget says voters should ask candidates what they would do to fix a problem.
"Committing to pledges -- whether to oppose tax increases or not to touch Medicare or Social Security -- reduces lawmakers' ability to properly evaluate solutions and budget tradeoffs and govern effectively," the group said.
Indeed, tax expert Howard Gleckman wrote in the TaxVox blog this week, "[candidates] are locking themselves into opposing both reductions in future benefits and tax increases. Houston, we have a problem."