Buying a car even with your so-so credit
NEW YORK (CNNMoney.com) -- If you're about to buy a car and you've got spotless credit, good for you. But what about the rest of us who've maybe been late with a credit card payment once in a while?
If your credit is sparkly clean, that's great. You know you can get the best rates, even 0% if it's being offered. If your credit's wretched -- like you've recently been bankrupt -- you should probably just resist the temptation to finance a new car right now.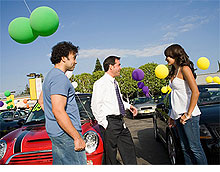 But if you're one of the rest of us, there are a few steps you can take to make sure you get the best possible interest rate and to protect yourself from scams.
Step 1: Check first Gather as much information as you can before you start shopping and not just about cars.
"There's a lot of romance to that process, so you want to make sure you're going into it rationally," said James Bell, market analyst with the automotive Web site Kelley Blue Book.
The first step should be to grit your teeth and, as scary as it may sound, look at a copy of your credit report. There's a good chance you'll be pleasantly surprised.
"Many people default to thinking their credit score is worse than it is," said Phil Reed, an editor for the auto web site Edmunds.com said.
The trouble with that is you're liable to believe a car salesman when he tells you that you only qualify for a loan with a high interest rate.
Also, checking your credit rating gives you a chance to clear up mistakes or even outright fraud.
As you look at your credit score, be aware that many auto dealerships rely on a different score that's geared to predicting, specifically, how you'll do at paying off a car loan, said Jeff Blyskal, a personal finance writer with Consumer Reports magazine. As a consumer, you may not be privy to that score which could be somewhat higher -- or lower -- than your general credit score.
Step 2: Shop around A car dealership may be able to offer you the lowest rate on your car loan because of its close relationships to automaker financing units. But don't take the dealer's word for it. You need to be sure it really is the lowest rate, and you should provide an incentive to get that best rate.
One way to get a better rate is to make the dealer fight for it. Walk in there with a pre-approved loan that the dealership has to beat. In the end, you may not end up using it.
So check with your local banks and credit unions.
"Credit union interest rates tend to be lower than finance company interest rates," said Blyskal.
Remember, you may qualify for credit union membership through a family relationship.
Also, don't forget to shop for the best financing at more than one dealership just as you do for finding the best price of a car. Don't want until after you've signed off on the car price to talk financing because a higher interest rate can more than wipe out the savings on a slightly lower purchase price.
"Call the dealership ahead of time and tell them what your credit scores is ask them what their best rate is," recommends Reed.
Just don't call on the weekend or later in the day when the dealership's finance officer is likely to be swamped with customers.
Step 3: Wrap it up You may be asked to sign paperwork that allows you to drive away with "your" new car while the dealership continues to work out the details of financing the car.
Don't do it.
"They may give you the car because it traps you into the deal," said Reed.
Once you have the car in your possession and you've traded in your old car it will be much harder to back out of the deal, leaving you powerless if the interest rate is too high.
Finally, read everything you're asked to sign. You want to make sure you're buying only what you expected to buy, and not some insurance product or extra warranty you didn't ask for. And you want to make sure everything, including the interest rate, is just as it was explained to you. Yes, it's a lot pf paperwork. Yes, it will give you a headache. But read it all anyway.