A robot lifeguard patrols Malibu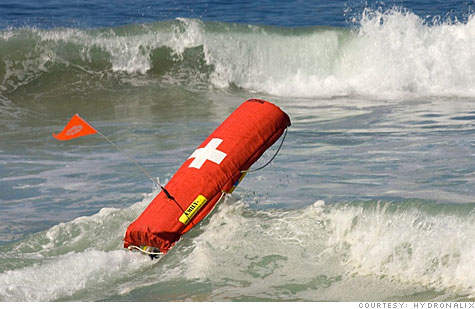 (CNNMoney.com) -- Emily may not be the prettiest thing with plastic parts on bikini-riddled Zuma Beach in Malibu, Calif., but 'she' still turns heads.
That's because Emily -- whose name is an acronym for Emergency Integrated Lifesaving Lanyard -- is a four-foot-long robotic buoy capable of racing through rough surf at 24 miles per hour. Emily's creators estimate that the robot can rescue distressed swimmers twelve times as fast as human lifeguards. Take that, David Hasselhoff!
Serial entrepreneur and engineer Tony Mulligan, 47 -- Emily's inventor -- has a history of tinkering with remotely piloted vehicles. His last company, Advanced Ceramics Research, developed unmanned aircraft for government agencies. But it wasn't until Mulligan created a small robotic boat in October 2009 to help the National Oceanic and Atmospheric Administration (NOAA) monitor marine mammals, and saw how effortlessly it navigated choppy waters, that the idea for Emily was born.
In June 2009, Mulligan sold Advanced Ceramics Research to British Aerospace Electronic Systems for $14.7 million. He promptly funneled $250,000 of that into the development of his red, waterproof, canvas-covered robot.
"Twenty days later, we came up with the first prototype for Emily," he recalls.
The final result is a remote-controlled contraption powered by a tiny electric pump called an impeller, which squirts a forceful stream of water, much like the propulsion system on a Jet Ski. Manufactured by Mulligan's startup, a seven-employee company called Hydronalix in Sahuarita, Ariz., Emily can run up to 80 miles on a single battery charge. The device's foam core is buoyant enough to support up to five people, who cling to Emily's ropes until human aid arrives.
That's a huge help, considering that strong riptides can yank multiple swimmers out to sea at once. Under such conditions, it can take lifeguards more than half an hour to complete a single rescue mission.
"From a technology perspective, [Emily] is quite innovative," says Howie Choset, a robotics professor at Carnegie Mellon University. "To be able to maneuver such a small craft through choppy waters straight to a drowning victim is incredible."
In late March, Mulligan began testing Emily at Malibu's Zuma Beach, known for its 27 miles of treacherous shoreline. A commercial incarnation is also in the works and scheduled for a spring release -- just in time for March Break debauchery. Next year's model, priced at $3,500, features a sonar device that builds 3D maps of water currents. Built-in sensors listen for underwater movements and noises associated with distressed swimmers.
To distinguish between children roughhousing and swimmers struggling, the latest version boasts a microphone and speaker acoustics system, enabling lifeguards to warn beachgoers of danger zones or calm panicked swimmers. And Mulligan says it won't be long before Emily will be able to scan ocean depths for human bodies or ship wrecks using hyperspectral imaging technology, which measures underwater rays of visible light to distinguish between different materials.
Emily's seafaring powers are slowly winning over investors. To date, the NOAA, the University of Arizona and the U.S. Navy have invested a total of $250,000 in the project. Mulligan expects sales of Emily to increase the company's revenue, currently $250,000, five-fold over the next year.
Still, not everybody's impressed.
"This is a classic example of an inventor's idea of how to solve a problem that doesn't necessarily coincide with reality," says B. Chris Brewster, president of the United States Lifesaving Association. He notes that a robotic floatation device -- no matter how nifty -- can't save an unconscious swimmer.
In other words, the Baywatch faithful can rest easy. While Emily is a useful tool, both Brewster and Mulligan agree: she's unlikely to put muscle-bound human lifeguards out of their jobs anytime soon.