Throwing darts at takeover targets
NEW YORK (CNNMoney.com) -- Psst. Did you hear about how Oracle is going to buy AMD and then Google is going to acquire Oracle, and Apple will merge with Google?
Okay. That last rumor (at least not all of it) hasn't made the rounds just yet. But give traders a week or two and who knows what they'll conjure up.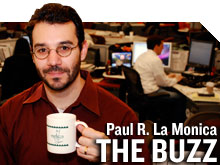 Many big companies are sitting on wads of cash and showing a willingness to use it on acquisitions. That's led investors to essentially start throwing darts to find takeover targets.
Shares of chip company AMD (AMD, Fortune 500), for example, rose more than 5% Monday on talk it could be bought. And Oracle (ORCL, Fortune 500) has been mentioned as a likely interested buyer since the company has publicly said it may want to acquire a semiconductor firm.
But this is just one of a slew of rumors making the rounds in the world of tech. Adobe (ADBE), Ciena (CIEN), SanDisk (SNDK) and Micron (MU, Fortune 500) have also been named in on again/off again M&A speculation. Of course, there's those AOL (AOL)-Yahoo (YHOO, Fortune 500) rumors too.
The scuttlebutt isn't confined to the tech sector either.
In just the past month alone, I've seen and heard chatter about Harley-Davidson (HOG, Fortune 500), Wilmington Trust (WL), Northern Trust (NTRS, Fortune 500), Avon (AVP, Fortune 500), Massey Energy (MEE), Cardinal Health (CAH, Fortune 500), Lincoln National (LNC, Fortune 500) and Whirlpool (WHR, Fortune 500) (just to name a few) being discussed as targets of rivals or private equity firms.
And on Tuesday, there was the most fanciful rumor of them all: whispers that Apple (AAPL, Fortune 500) was interested in buying Sony.
What's this all mean? Mike O'Rourke, chief market strategist with BTIG, an institutional brokerage firm in New York, said investors should take it with a grain of salt and not rush into stocks that are running up on rumors.
"There is more chatter than usual [and] people shouldn't be trading off of rumors," O'Rourke said. "But that's markets for you."
Sure, investors who owned companies that have been acquired in the past few months for big premiums, such as 3PAR and McAfee, are smiling all the way to the bank.
But not every small or mid-cap company out there is going to get scooped up -- which means bets on companies that don't get acquired could wind up being costly if rumors don't pan out.
"Finding acquisition targets are always like looking for a needle in a haystack. Maybe you get lucky and find one that gets acquired but it's not a strategy you should be pinning your retirement hopes on," said Todd Campbell, president of E.B. Capital Markets, an independent research firm in Durham. N.H. "With rumors, you never know what's real and what's Memorex."
Campbell said that it's hard to know for certain where takeover chatter comes from and it pays to be skeptical of any rumor since the source of the gossip could be traders merely looking to make a quick buck moving in and out of merger targets.
However, O'Rourke noted that it's understandable why investors are trying to identify the next takeover targets. It's undeniable that companies are on a shopping spree and that's likely to continue.
"The M&A market is just starting to get back to where it normally should be. So many companies have been in a defensive shell for years," he said. "For companies to start doing deals again, that is a good sign."
Alan Lancz, director of research at LanczGlobal.com, an independent research and investment firm based in Toledo, Ohio, also believes that the takeover wave is for real and has legs.
He said that he closed out all the short positions (i.e. stocks he thinks will fall) in a long-short fund his firm runs because he didn't want to be caught short on stocks that suddenly surge on M&A news.
"With rumors, a lot of it is just pure speculation. But some of the rumors do come true" he said. "It's dangerous to bet against companies that wind up getting taken over."
So at the end of the day, the return of rumors is probably healthy. But investors should still steer clear of buying the rumor.
One strategist said what's going on now is normal and that the broader market is not pricing in too much takeover chatter right now. The S&P 500, after all, is trading at about 13 times 2011 earnings estimates.
"During periods of economic slowdown, you will often see a pickup in mergers," said Quincy Krosby, market strategist with Prudential Financial in Newark, N.J. "Until you get to the stage where the market gets frothy because of speculation, there's no need to worry. We're certainly not there yet."
- The opinions expressed in this commentary are solely those of Paul R. La Monica. Other than Time Warner, the parent of CNNMoney.com, and Abbott Laboratories, La Monica does not own positions in any individual stocks.