Snob appeal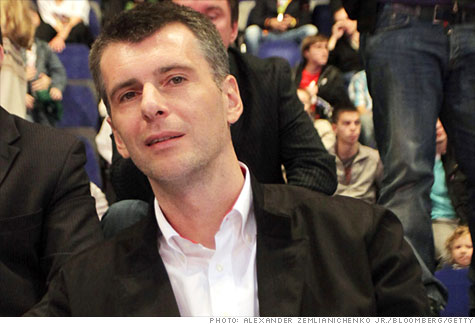 FORTUNE -- Few countries in the world make a bigger virtue of flaunting wealth than Russia, and there are few other places where a magazine called Snob could be expected to fly off the newsstands.
But Mikhail Prokhorov, the billionaire owner of the New Jersey Nets basketball team -- soon to move to Brooklyn -- is betting that upwardly mobile Russians in the U.S. will be happy to be seen as peering over the tops of their printed matter down onto the masses, and will snap up his magazine, which debuted in New York last month.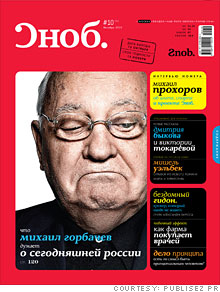 "Snob is based on a unique business model. It is aimed at the so-called global Russian, who lives anywhere in the world, but who is linked to every other Snob reader through the language and the culture of Russia," he said in an interview with Fortune. (Read a Q&A extra with Prokhorov for more.)
The Snob magazine and social network is one quarter of a $100 million media project launched by Mikhail Prokhorov two years ago. The other parts are a TV sports and fitness channel, an online children's education network, and the F5 magazine and online community, which celebrates Russia's blogosphere. Prokorov would not say when Snob, which retails for $8 in New York, might turn a profit.
Snob, which is linked to a closed online social network, is published in Russian in New York, London and Moscow. The choice of publishing in Russian despite distribution in English speaking countries is a conscious one; the aim is to provide a platform for professional Russians who live an international lifestyle but want to feel plugged into what is happening in their home country and to others in the Russian diaspora.
It was the brainchild of Vladimir Yakolev, a journalist who founded top Russian daily Kommersant and who returned to Russia after living abroad for some years, feeling that there was room for a magazine that would speak to people like him and his well-travelled peers.
Both Yakolev and the magazine's editor Masha Gessen, a Russian-born American journalist who has written for Vanity Fair, say that there was a growing need to create a social network that would provide a safe forum for intellectual discussion after decades of the systematic destruction of intellectual life in Russia.
The Snob brand name is tongue-in-cheek and a close look at the magazine shows that it doesn't celebrate the cash-flashing bling-drenched lifestyle that has become the stereotype of rich Russians.
The most recent issue has an interview with Mikhail Gorbachev, a story on whether modern-day obstetrics has strayed into the territory of eugenics and a profile of a globe-trotting Russian violinist who lives out of a suitcase as he travels from concert to concert.
The magazine's title is ironic, the editors say.
"Over the last twenty years Russia has had so many elites: the party elite, the early business elite, the mafia elite, and they have risen and fallen so fast that the name points to the fleeting nature of exclusivity here," said Masha Gessen.
Indeed, the last two decades have been a period of such rapid change for the country that most Russians at home and abroad have been scrambling to establish their professional identities and have only just started to have the time and freedom to explore their place in the world.
"In Russia a lot of the process of securing ones place in society involves building fences, both literal and figurative, to create a private space and live as you want to," said Gessen.
"What the project aims to do is allow them to kick over the fence and enable people to talk to others outside their professional and social circle and engage with a larger group," she adds.
Online Snobbery
Snob's online network began by inviting prominent leaders in the arts, sciences and politics to join the online forum, then magazine subscribers were invited to join for a fee of $200 a year, with those subscribers who wanted to host a blog on the site paying $300.
"We invite some people onto the network and then others subscribe and we allow people to pay for a day, a year, or for several months to comment on the site," said Gessen. All articles are published online first, then appear in the magazine along with readers comments.
She added that the fee was not meant to be prohibitive and to create a club for the rich but to attract well-to-do professionals at the top end of Russia's middle class.
Readers are expected to be primarily between 35 and 50, earn $50,000 to $100,000 a year and most importantly, be part of a growing group of internationally minded Russians with similar interests.
Snob magazine organises two to three events a month in Moscow and also secure tickets to premiers, plays and other events that readers want to go to and also hosts events in New York and London.
"We aim to enable our readers to live the kind of life they want to live, go to the events they would want to attend or get a discount at the shops they would already want to shop at and reinvigorate Russian intellectual life," said publisher Vladimir Yakolev.
It's not exactly an auspicious time to launch a new, glossy, heavy-stock and expensive magazine in the U.S., but given Prokhorov's other business successes and the unique niche Snob is seeking to fill, it may not be the worst time to launch a new media venture, either.