Top cities for Halloween loot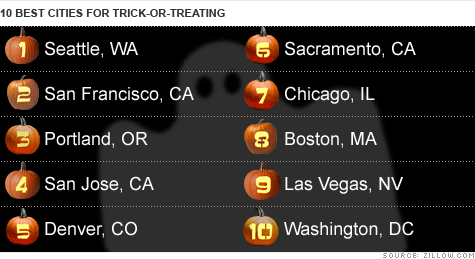 NEW YORK (CNNMoney.com) -- With a little advance planning, trick-or-treaters can score king-sized Kit Kats -- and avoid boxes of raisins -- in their candy buckets.
Real estate website Zillow.com ranked the 20 best cities to trick-or-treat in this Halloween -- and then picked the best neighborhoods in each of those towns. (See the full list here.)
Seattle secured the top spot for treats the second year in a row, according to the site's Trick-or-Treat Housing Index. (If you live there, hit the Wallingford and Queen Anne nabes.)
"I usually get too much candy and I don't eat all of it," said Seattle native Courtenay, 12. She and her friends scout out the best locations in advance and set their sights on houses that are fully decorated for the holiday.
Her favorite treat: full-size Reese's peanut butter cups. In fact, she recently had to upgrade from a pumpkin container to a pillowcase to carry all her loot.
To score as well as Courtenay, Zillow recommends Wallingford as the best spot for ghosts, goblins and fairy princesses. Residents of the family friendly hood host costume swaps, pumpkin carving contests and even construct a full-scale haunted house on Oct. 31.
Overall, kids in Western cities are set for the best candy hauls. San Francisco, Portland, San Jose and Denver rounded out the top five.
In San Francisco, hit the Noe Valley, but if you're in Portland, be sure to check out the Richmond area. Cambrian Park in San Jose is hot, and in Denver, Cherry Creek took top honors.
Zillow's ranking is based on home values, population density, walkability and local crime data. The top cities are the ones that have the most potential for good candy, with the least walking and safety risks.