Nissan recalling 747,000 vehicles in U.S.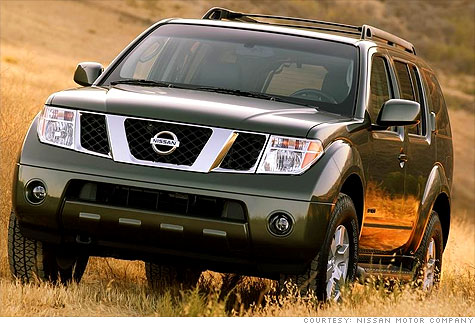 NEW YORK (CNNMoney.com) -- Nissan North America announced a recall on Thursday of 747,000 trucks and SUVs in the U.S. because of the risk of failure to the electrical systems.
Nissan said the recall extends to Nissan Armadas and Titans from 2004 to 2006, Infiniti QX56s from 2005 and 2006, as well as Nissan Frontiers, Pathfinders and Xterras from August 2003 and June 2006.
The company said that it needs to replace the electrical relays in the engine control modules -- the computers that control engine performance and other essential components of motor vehicles.
The Japanese automaker said the problem may cause the engine to stall. In extreme cases, a stalled engine cannot be restarted.
"Silicon vapor may form inside the electrical relay that supplies voltage to the engine control module," said the company. "Over time, this vapor could create oxidation on the electrical contacts in the relay that may lead to engine performance issues, including the possibility of stalling at low engine speeds."
No related injuries or accidents have been reported, Nissan said.
In addition to the U.S. recall, Nissan North America said the recall extends to 23,000 of these vehicles in Canada.
World-wide, the company is recalling 2.2 million of these vehicles with similar potential for failure.
In Japan, the models affected include Cube, Lafesta, March, Note, Serena, Sylphy, Tiida, Tiida-Latio and Wingroad.