Rise in college costs hits public schools hardest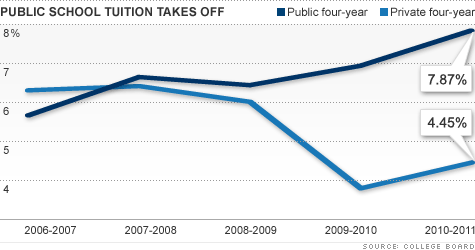 NEW YORK (CNNMoney.com) -- While heading to a private college is still more expensive than going to a state school, tuition and fees are climbing at a faster pace at public schools than at their private brethren.
For the school year 2010-11, in-state tuition and fees at public four-year colleges and universities rose to $7,605, up 7.9% from a year ago, the College Board reported Thursday. At private four-year institutions, the average cost rose 4.5% to $27,293.
Dwindling state budgets are sparking the hikes at public colleges. Over the past decade, public school tuition has risen at an annual rate of 5.6% vs. 3% at private schools.
"Prices are continuing to rise more rapidly than the rate of inflation, particularly in the public sector," said Sandy Baum, independent policy analyst at the College Board. "Public colleges and universities are getting less money from the states because the states just don't have money to give them."
Students at California State University, for example, are paying the price for the state's budget crunch: Tuition rose 5% this year, after jumps of 10% annually the past few years, as the state has sliced funding -- chopping it about 20% in the past two years alone.
"Unfortunately we have only two sources of revenue, student fees and money from the state," said Claudia Keith, assistant vice chancellor of public affairs at CalState. "Since we're still in a budget hole, we have raised student tuition."
Financial aid only helps so much: Most CalState students receive financial aid, but there are "middle-class students who are stuck because they might not be eligible for aid, who are probably going to have to rely more on loans," said Keith.
Keith hasn't noticed any students dropping out because of the price increases, but she said that's likely because the state school is still a relative bargain at $5,100 a year.
Still, higher room, board, books and school supply costs add up -- even for students who receive aid.
"A lot of people are getting assistance who weren't before, but that doesn't make it easy," said Baum. "You also have to eat and live, and there are other expenses that need to be covered -- and with family incomes also going down, people are still feeling strained and struggling to pay."
What you actually pay: Nationwide, the median cost of tuition and fees is $9,418. But two-thirds of undergraduates get federal grant aid that helps soften the blow. On average, grant aid rose $1,100 from last year, thanks to boosts in Pell Grants and Veterans' benefits.
Students at four-year public institutions received an average $6,100 in grant aid and federal tax benefits for 2010-11. At private schools, aid averaged $16,000.
When aid and tax credits are taken into account, the cost of college actually is significantly lower than it was five years ago: $1,540 at public schools, down from $2,080, and $11,320 at private schools vs. $12,750 in 2005-2006.
Students without financial aid, of course, are feeling the full brunt of tuition hikes, with 19% of undergrads at schools nationwide seeing tuition jump by 12% or more last year.
Public or private? All told, the actual cost of attending a public four-year college is about $600 more than it was five years ago when the effect of aid, room and board costs, and inflation is taken into account. At private schools, the net cost hasn't budged.
What's more, at private schools, tuition increases -- which averaged 4.5% this year and and 4.3% last year -- are the lowest in 37 years, said Tony Pals, a spokesman for the National Association of Independent Colleges and Universities.
"Despite the economic downturn, enrollment at nonprofit private colleges and universities has continued to grow because of institutional efforts to stay affordable," said Pals. "Record increases in institutional aid, and tuition increases that are the lowest in decades, are drawing more students to our colleges."