Stocks headed higher at the open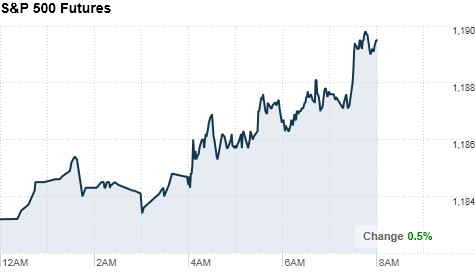 NEW YORK (CNNMoney.com) -- U.S. stocks were set to open higher Tuesday as the nation headed to the polls for the midterm election and the Federal Reserve geared up for a key two-day meeting.
Dow Jones industrial average (INDU), S&P 500 (SPX) and Nasdaq (COMPX) futures were higher ahead of the opening bell. Futures measure current index values against perceived future performance.
"We're in a major wait-and-see mode," said Art Hogan, chief market strategist at Jefferies & Co. "You are going to be hard pressed to find someone making a large bet in today's market."
Stocks ended little changed Monday after an early advance on upbeat manufacturing data gave way to jitters ahead of a number of key developments expected later this week.
With no major economic reports on the agenda Tuesday, investors will remain focused on the midterm Congressional elections and the Fed meeting.
Many on Wall Street expect Republicans to win the 39 seats needed to take control of the House. In the Senate, the GOP would need to win 10 of the 37 of seats up for grabs to get the majority.
A Republican majority could be perceived as pro-business and therefore give a boost to the market.
Meanwhile, the Fed kicks off its two-day meeting, with a highly anticipated policy statement due Wednesday afternoon. The central bank is expected to unveil a new round of asset purchases, as part of a wider quantitative easing plan.
Investors are also looking ahead to Friday's jobs report from the Labor Department. Economists expect the report to show that employers added 60,000 jobs last month.
Companies: BP (PB), recovering from the Gulf oil spill, reported a third-quarter profit of $1.8 billion that included a $7.7 billion pretax charge related to the disaster. While the income was down from $5 billion a year earlier, it was a turnaround from the $17 billion loss posted in the prior quarter due to spill-related charges.
BP's stock rose more than 1% in premarket trading.
Pfizer (PFE, Fortune 500) posted a third-quarter profit that fell from a year earlier, but beat analysts' expectations excluding one-time charges. The drug maker said sales of its blockbusters Lipitor and Celebrex fell. Shares of Pfizer edged lower in premarket trading.
Agriculture processor Archer Daniels Midland (ADM, Fortune 500) reported fiscal first-quarter profit below expectations. Shares fell nearly 6% premarket.
World markets: European stocks rose. The CAC 40 in France and the DAX in Germany were up slightly, and Britain's FTSE 100 gained over 1%.
Asian markets ended little changed. Japan's benchmark Nikkei index and the Hang Seng in Hong Kong each gained less than 0.1%. The Shanghai Composite ended 0.3% lower.
Currencies and commodities: The dollar eased against the euro, the British pound and the Japanese yen.
The Australian dollar got a boost after Australia's central bank hiked its key interest rate a quarter percentage point.
Oil futures for December delivery rose $1.17 to $84.12 a barrel.
Gold for December delivery gained $7.90 to $1,358.50 an ounce.
Bonds: The yield on the 10-year Treasury note fell to 2.61% from 2.63% late Monday.