Forget GM. Ford still rules.
NEW YORK (CNNMoney.com) -- General Motors is set to return to the public markets later this month. Unsurprisingly, the initial public offering is getting a lot of attention.
Hopes are high that GM will have a strong debut so that the government's investment in the automaker can eventually turn out to be a profitable gambit for taxpayers.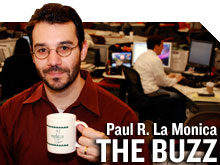 With auto sales picking up in recent months, there is good reason to expect that investors will greet GM kindly. But for those looking to profit off a continued rebound in the auto market, there already is a stock that is far less risky and has a better track record: Ford.
Shares of Ford (F, Fortune 500) have surged more than 40% so far this year. The stock is up about 10% since I last wrote about the company in an August column where I dubbed Ford "The Big One" in Detroit.
In the short-term, GM may steal some thunder from Ford once it finally goes public. Money managers at large mutual funds and hedge funds that want to buy GM and already own Ford may find that they don't want to make that big of a bet on autos.
"The GM IPO will be a negative. People are not going to double down on auto exposure," said Brett Hoselton, an analyst with KeyBanc Capital Markets in Cleveland.
But another analyst isn't too concerned that investors are suddenly going to forget that Ford is still arguably the superior company.
"Clearly some institutional money will be pulled out of Ford," said Steve Dyer, an analyst with Craig-Hallum Capital in Minneapolis. "But Ford is a better-run company with a much better lineup of vehicles."
It's important to remember that the only reason GM is going public again in the first place is because it was delisted after its massive government bailout and forced bankruptcy. Ford remained solvent throughout the financial crisis and has only gotten stronger.
Last week, Ford reported a record third-quarter profit of $1.7 billion. Analysts raved about the results, and many were particularly pleased by the fact that Ford's sales appear to be heading in the right direction. In other words, Ford isn't just generating a profit from slashing expenses.
North American auto sales in the third quarter rose 21% from a year ago. The company's market share has been steadily on the rise as well this year, an indication that Ford is benefiting even as rivals like Toyota (TM) and Chrysler still struggle.
"Ford results, despite severely depressed industry volumes in both North America and Europe, were generated by, in large part, the success of its new vehicles," wrote Kirk Ludtke, an analyst with CRT Capital Group in Stamford, Conn, in a recent report. "In short, we have come to realize that the company is much more than a cost-cutting story."
Still, it's fair to wonder if this is already reflected in Ford's skyrocketing stock price.
Hoselton said that while it's undeniable the company has had a great turnaround under CEO Alan Mulally, investors have figured that out.
"The company is clearly doing quite well but I struggle to come up with company-specific catalysts to justify a higher stock price," said Hoselton, who has a "hold" on the stock.
Ludtke is a bit more bullish. He argued that Ford still has some, albeit not much, room to run. He thinks a fair near-term value for Ford is $15 a share. That's 5% higher than its current price.
But Dyer said Ford should be worth even more. He said that based on the likely market value for GM when it starts trading -- which analysts peg at somewhere between $50 billion and $60 billion -- Ford appears undervalued.
Ford's current market value is about $50 billion. Dyer thinks Ford should be worth a little more than GM given Ford's continued success. He said Ford could trade as high as $18 a share, which would give Ford a market value of about $62 billion.
"Mulally has worked wonders at Ford," Dyer said. "GM may eventually get to where Ford is but there are still a lot of things at the company that are less than optimal."
- The opinions expressed in this commentary are solely those of Paul R. La Monica. Other than Time Warner, the parent of CNNMoney.com, and Abbott Laboratories, La Monica does not own positions in any individual stocks.