Stocks set to slip at open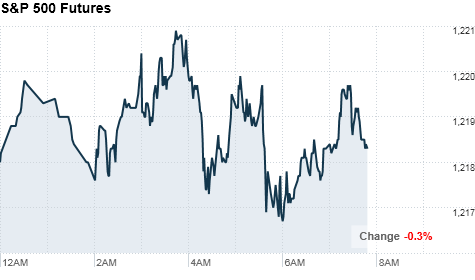 NEW YORK (CNNMoney.com) -- U.S. stocks were poised to open slightly lower Monday as investors shift their focus to the global economic picture.
Dow Jones industrial average (INDU), S&P 500 (SPX) and Nasdaq (COMP) futures were all lower ahead of the opening bell. Futures measure current index values against perceived future performance.
Stocks ended slightly higher Friday, but it was enough for all three major indexes to close at fresh two-year highs. The Dow ended near 11,444 -- its highest close since Sept. 8, 2008. Both the Dow and S&P also logged their biggest weekly gains in more than two months.
Gains were muted Friday despite the Labor Department's monthly jobs report, which showed the economy added a better-than-expected 151,000 jobs in October.
On Thursday, leaders of the world's major economies -- including President Obama -- will start a two-day summit in South Korea. The Group of 20 is expected to discuss recent currency tensions and other global economic challenges.
The G-20 is likely to set the tone for both currency and stock markets.
"All eyes are on the upcoming G-20 meeting, and that could set the short-term direction for U.S. currency," said Peter Cardillo, chief market economist for Avalon Partners. "I think over the next day or two markets will consolidate, with averages slipping in and out of the plus and minus column today."
In the wake of strong earnings reports, the lack of economic data in the early part of the week might result in a retreat for stocks.
"One would expect a pullback until the G-20 sets the short-term direction in currencies and equities," Cardillo said.
This week's corporate results include Macy's (M, Fortune 500) and Cisco Systems (CSCO, Fortune 500), both slated to release quarterly earnings Wednesday.
Economy: After the opening bell, the Fed will release its quarterly report on household net worth.
Companies: Before the bell, Sysco (SYY, Fortune 500) reported earnings per share of 51 cents, meeting the expectations of analysts surveyed by Thomson Reuters. Net earnings for the quarter dropped 8.3% from the previous reporting period to $229 million. The drop was attributed to a $39 million increase in year-over-year tax expenses. Sysco shares dropped slightly following the news.
AOL (AOL) has hired financial advisers to explore the possibility of a merger with rival Yahoo (YHOO, Fortune 500), the Wall Street Journal reported Monday. Shares of Yahoo and AOL both posted small gains in premarket trading.
McDonald's (MCD, Fortune 500) said its global sales grew 6.5% in October, fueled by strong performance of core menu items and excitement over the hamburger chain's Monopoly game promotion in the U.S. McDonald's shares were flat in premarket trading.
Meanwhile, the Wall Street Journal also reported that the Securities and Exchange Commission has subpoenaed a number of former Citigroup (C, Fortune 500) brokers, who contend the bank misled investors on risky bond funds. Shares of Citigroup were unchanged in premarket trading.
Both the SEC and Citi declined to comment on the matter to CNN.
World markets: European stocks lost their gains at mid-session. Britain's FTSE 100 dropped 0.3%, while the DAX in Germany and France's CAC 40 fell 0.1%.
Asian markets ended higher. The Shanghai Composite gained 1%, the Hang Seng in Hong Kong rose 0.4% and Japan's Nikkei ticked up 0.7%.
Currencies and commodities: The dollar strengthened against the euro and British pound, but fell against the Japanese yen.
Oil for December delivery dropped 27 cents to $86.58 a barrel.
Gold futures for December delivery fell $6.70 to $1,391 an ounce. Earlier in the session, gold hit a new intraday record of $1,398.50.
Bonds: The price on the benchmark 10-year U.S. Treasury slipped, pushing the yield up to 2.63% from 2.54% late Friday.