Treasury yields rise after midday auction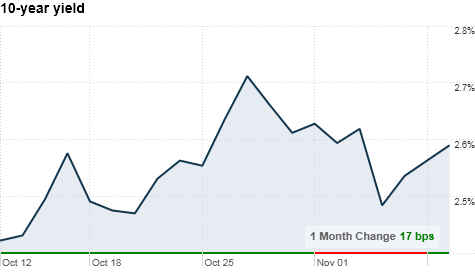 NEW YORK (CNNMoney.com) -- Treasuries struggled Tuesday, with yields rising in the afternoon as investors waded through the ripple effects of the Fed's bond-buying program.
Last week, the Fed announced it planned to purchase $600 billion of Treasuries by the second quarter of 2011.
Now, the market is "trapped" between the expectation of government debt purchases and foreign investors selling similar assets, said Kenneth Naehu, the managing director and head of fixed income at Bel Air Investment Advisors.
"Some of the players are a little squeamish on the question of whether foreign holders will be selling into this," Naehu said. "It's one thing for the Fed to be buying such a large amount, but another thing if foreigners in the secondary market use it to sell."
Coupled with the G-20 at the end of the week -- and the accompanying policy rhetoric -- investors are largely playing a waiting game and taking cues from equity markets.
Auctions: Demand for U.S. Treasuries remained high for Tuesday afternoon's bond auction, in which the government offered $24 billion in 10-year notes. The bid-to-cover ration for the auction was 2.80, suggesting that demand remains robust.
The 10-year bond auction follows Monday's sale of $32 billion in 3-year notes. The 3-year note auction drew $104 billion worth of bids, for a bid-to-cover ratio of 3.26.
On Wednesday, Treasury will conclude its auctions for the week by offering $16 billion in 30-year notes.
Bond markets will be closed on Thursday for Veterans Day.
Yields: The yield on the benchmark 10-year Treasury note moved higher to 2.66% Tuesday, from its close of 2.55% on Monday. Bond prices and yields move in opposite directions.
Yields for the 30-year bond increased to 4.25%, the 2-year note was up to 0.45%, and the 5-year note ticked up to 1.25%.