Stocks flounder as commodities shine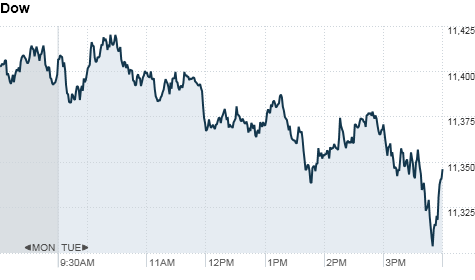 NEW YORK (CNNMoney.com) -- Stocks slumped while gold rallied to a record high Tuesday as investors continued to grapple with the Federal Reserve's latest effort to stimulate the economy.
The Dow Jones industrial average (INDU) was down 60 points, or 0.5%, to end at 11,421. The S&P 500 (SPX) shed 10 points, or 0.8%, to 1,227. The Nasdaq (COMP) slipped 17 points, or 0.6%, to 2,593.
Bank of America (BAC, Fortune 500) lead decliners on the Dow, while energy giant Exxon Mobil (XOM, Fortune 500) was the best performer on the index. Shares of other big banks also fell, with Citigroup (C, Fortune 500) and Morgan Stanley (MS, Fortune 500) down over 3%.
Meanwhile, gold prices surged to a record high for the second day in a row, while silver prices also jumped to fresh 30-year highs. Oil prices erased earlier gains to end slightly lower after the dollar regained ground in the currency market.
"Everything is really dictated by the dollar," said Ryan Larson, a senior equity trader at RBC Global Asset Management, noting that low trading volumes were adding to the market's lack of conviction. "The dollar is catching a bid and conversely we've seen the equity markets selloff modestly," he said.
Traders said the market is still adjusting to last week's announcement from the U.S. central bank, which officially unveiled plans to pump $600 billion into the economy via a bond-buying policy known as quantitative easing.
Some investors are betting the Fed policy will hurt the dollar and cause inflation to spike at some point in the future. As a result, they have been buying up gold as a hedge against rising prices. Others believe the extra liquidity will continue to boost stocks and commodities.
After climbing to fresh two-year highs last week on anticipation of the move, stocks have been drifting sideways since the Fed announced its plan.
"The lack of catalyst that is leaving traders without direction," said Larson.
The job market will be in focus Wednesday morning when the Labor Department releases its weekly report on initial claims for unemployment benefits. Investors will also take in reports on the U.S. trade balance and treasury budget.
In addition, investors are looking ahead to this week's meeting of leaders from the Group of 20 major economies, which starts Thursday in Seoul.
The meeting comes against a backdrop of tensions over global trade and currency policies. While expectations are high for the G-20 meeting, analysts said a definitive accord is unlikely to be achieved.
Stocks ended lower Monday amid a lack of economic data and strong demand for commodities.
Currencies and commodities: Gold and silver soared to new highs, while cotton prices rose 6% to another all-time high following a USDA crop report that cut the production outlook for 2011.
Oil prices slipped, erasing earlier gains, as the dollar recovered some ground. The dollar rose 0.7% on the euro, and gained the 0.8% versus the British pound. Against the Japanese yen, the dollar was up 0.4%.
Oil for December delivery fell 34 cents to close at $86.72 a barrel.
Gold futures for December delivery rose $6.90 to settle at an all-time high of $1,410.10 an ounce. Earlier, gold reached a record trading high of $1,422.10 an ounce.
Silver prices rose $1.47 an ounce to end at a 30-year high of $28.91.
Prices for commodities of all sorts have been rising recently as investors bet the Fed's accommodative policies will undermine the greenback. A weaker dollar typically supports commodities priced in the U.S. currency, such as oil and gold.
At the same time, some commodities are benefiting from concerns that Fed policy will lead to a bout of inflation at some point in the future.
"Investors are searching for potential alternatives in a world where paper currency, specifically dollars, may be less trustworthy than they once were," said Lawrence Creatura, a portfolio manager with Federated Clover Investment Advisors.
Economy: A government report showed that wholesale inventory levels rose more than expected in September, while a survey of small business owners showed optimism rose in October.
The Commerce Department said wholesale inventories rose 1.5% in the month from an upwardly revised 1.2% gain in August. Economists had expected a 0.6% increase, according to consensus estimates from Briefing.com.
The National Federation of Independent Business said its Index of Small Business Optimism gained 2.7 points in October, rising to 91.7. While the index remains below pre-recession levels, the NFIB said last month's increase reflects an expected improvement in economic activity.
Companies: Shares of Yahoo (YHOO, Fortune 500) rose 3% following reports that a group of private equity investors had approached Alibaba Group chairman Jack Ma about joining a takeover bid. The report is the latest in a series of takeover and merger rumors involving Yahoo in recent weeks.
Online travel booking service Priceline.com (PCLN) reported better-than-expected gains in third-quarter sales and profits. Shares of the company were up nearly 8%.
GE (GE, Fortune 500) announced a $2 billion investment in China through 2012. $500 million of the funds will be used to increase research and development, while $1.5 billion will be invested with joint ventures with Chinese state-owned enterprises. GE shares eased 0.6%.
Natural gas producer Atlas Energy (ATLS) said early Monday that it has agreed to be purchased by Chevron (CVX, Fortune 500) in a deal worth $4.3 billion. Atlas shareholders will receive $43.34 per share, in what is the latest deal in a string of large oil companies snapping up natural gas producers. Chevron shares fell 1.6%, but shares of other natural gas producers such as Cabot Oil & Gas (COG), Range Resouces (RRC), Chesapeake Energy (CHK, Fortune 500) and Southwestern Energy (SWN) all moved higher.
World markets: European stocks closed higher. Britain's FTSE 100 rose 0.4%, the DAX in Germany ticked up 0.5% and France's CAC 40 added 0.8%.
Asian markets ended the session lower. The Shanghai Composite fell 0.8%, the Hang Seng in Hong Kong dropped 1% and Japan's Nikkei declined 0.4%.
Bonds: The price on the benchmark 10-year U.S. Treasury edged lower, pushing the yield up to 2.64% from 2.56% late Monday.