Stocks bounce back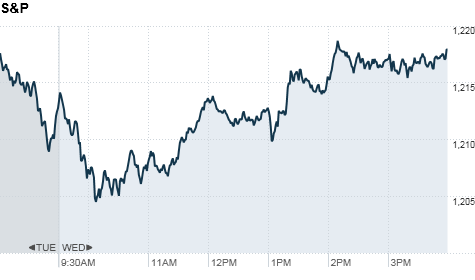 NEW YORK (CNNMoney.com) -- U.S. stocks made a comeback Wednesday afternoon to finish higher, as the dollar turned lower after an earlier rally. But the gains were tepid as investors remained jittery ahead of the G-20 meeting.
The Dow Jones industrial average (INDU) added 10 points, or 0.1%, and the S&P 500 (SPX) rose 5 points, or 0.4%. The tech-heavy Nasdaq (COMP) added 16 points, or 0.6%.
All three major indexes had fallen sharply earlier in the session, with the Dow shedding 92 points, as the dollar soared to a one-month high against the euro and the yen. But stocks clawed higher as the dollar eased.
"We're seeing some abatement in the dollar's rally, which has contributed to the slight lift in the stock market," said Mark Luschini, chief investment strategist at Janney Montgomery Scott.
Investors remain cautious ahead of the G-20 meeting, which starts Thursday. Worries about sovereign debt continue to underpin sentiment and that could keep stocks trading in a tight range this week.
"I suspect stocks will stay in a range, largely directionless, leading into the weekend," Luschini said. He expects that investors will be sitting on their hands as the world's major economies meet in Seoul and discuss currency exchange rates, among other global economic issues.
Stocks ended lower Tuesday, as investors also continued to grapple with the Federal Reserve's latest effort to stimulate the economy.
The Fed unveiled details about its first round of debt buying as part of its $600 billion Treasury buying plan.
Economy: The number of people filing for initial jobless benefits plunged to 435,000 last week, according to the Department of Labor -- the lowest number in four months and much better than expected.
The number of Americans filing new claims for unemployment last week was forecast to fall to 450,000, from 459,000 in the previous week, according to a consensus of economists surveyed by Briefing.com.
U.S. trade balance contracted by 5.3% in September, narrowing to $44 billion, according to the Commerce Department. It was expected to have narrowed to $44.8 billion in September, from $46.3 billion in August.
The October Treasury budget is on tap for Wednesday afternoon.
Companies: Macy's (M, Fortune 500) reported a quarterly profit of 2 cents per share, an improvement from its loss of 8 cents per share a year ago. Macy's increased its earnings guidance for the second half of the year. The stock fell 1.3%.
General Motors, which is readying a $13 billion initial public offering, reported third-quarter net income of $2 billion on revenue of $34.1 billion. The results marked the automaker's best quarter in at least six years. GM also said it expects to "post a solid and profitable first year post-bankruptcy."
Boeing announced that it canceled test flights of its 787 Dreamliner, after one of the new airplanes made an emergency landing in Texas. Boeing's (BA, Fortune 500) stock fell more than 3%.
Campbell Soup Co. (CPB, Fortune 500) lowered its full-year guidance because of weaker-than-expected results for its upcoming quarter. The company said it expects a decline of 1% in net sales for the quarter, along with a 6% drop in earnings per share. For the full year, the company now forecasts net sales growth of 1% to 3%, as well as growth of 2% to 4% in earnings per share. The stock slipped 3.3%.
Shares of Assurant Inc. (AIZ, Fortune 500) plunged more than 11%, making the specialty insurer the biggest loser on the S&P 500. The stock dropped after an article in the American Banker suggested the company is tied to evidence of "abuse" and "conflicts of interest."
After the closing bell, network equipment maker Cisco (CSCO, Fortune 500) reported a quarterly profit Wednesday that rose 8% from year-ago to $1.9 billion, or 34 cents per share. Excluding a one-time charge, the company earned 42 cents per share. That topped Wall Street's forecast for 40 cents per share. Cisco's stock rose 4.2% after-hours.
World markets: European stocks closed lower. Britain's FTSE 100 and the DAX in Germany declined by 1%. France's CAC 40 fell 1.5%.
Asian markets ended the session mixed. The Shanghai Composite dropped 0.6% and the Hang Seng in Hong Kong lost 0.9%, while Japan's Nikkei rose 1.4%.
Currencies and commodities: The dollar lost ground against the British pound and the euro, easing from highs hit earlier in the session. It remained firm against the yen.
Commodity prices, which have been on a tear as investors bet that the Fed's $600 billion boost will weaken the greenback, took a breather thanks to the dollar's surge. A weaker dollar typically supports commodities priced in the U.S. currency, such as oil and gold, while a stronger dollar adds pressure.
Gold futures for December delivery fell $10.80 to settle at $1,399.30 an ounce, backing off from its record high achieved on Tuesday. Silver for December delivery slipped $2.04 to $26.87 an ounce.
Meanwhile, oil for December delivery gained $1.09 to finish at $87.81 a barrel, the highest settlement since Oct. 2008, after a government report showed a surprise decrease in inventories.
Bonds: The price on the benchmark 10-year U.S. Treasury fell slightly, pushing the yield up to 2.67% from 2.66% late Tuesday. Earlier the yield had climbed to 2.74%.