$4 trillion in deficit cuts proposed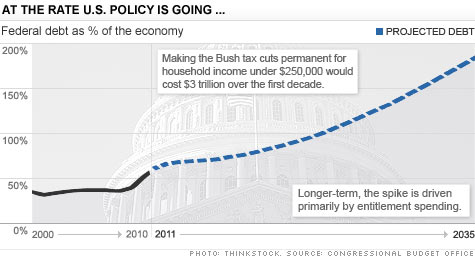 NEW YORK (CNNMoney.com) -- In a surprise move Wednesday, the co-chairmen of President Obama's fiscal commission released their preliminary proposals to curb growth in U.S. debt.
The report from Erskine Bowles and Alan Simpson recommends spending cuts beginning in 2012, as well as tax reform and other ways to reduce the deficit by $4 trillion over the next decade.
Three quarters of the $4 trillion would be achieved through spending cuts -- including defense -- and the rest from more tax revenue.
Among the proposed defense cuts: Freeze noncombat military pay at 2011 levels for three years to save $9.2 billion and reduce overseas bases by one-third to save $8.5 billion. It would also direct $28 billion in cuts already proposed by Defense Secretary Robert Gates toward deficit reduction.
Outside of defense, the report recommends eliminating 250,000 contractors, saving $18.4 billion, and freezing federal pay for three years, saving $15.1 billion.
The 18-member commission, which will make formal recommendations to Obama on Dec. 1, has been closely watched by budget experts since its first meeting in April.
The panel's proposals are not likely to be adopted by Congress wholesale, but they are expected to influence the debate in coming months as Congress tackles the nation's unsustainable long-term debt.
In their report, Bowles and Simpson offer ideas for consideration by the commission:
Set targets for revenue and spending: The report recommends that taxes be capped at 21% of gross domestic product. It would also limit federal spending initially to 22% of the economy and eventually to 21%.
Rein in spending: The report proposes close to $200 billion in domestic and defense spending cuts in 2015. (Deficit fighting: The first cut is the deepest)
Reform tax code: The report would lower income tax rates and simplify the tax code. It would abolish the Alternative Minimum Tax -- the so-called wealth tax -- and reduce tax breaks.
Change Social Security: The report aims to make Social Security solvent over 75 years through a number of measures, including smaller benefits for wealthier recipients, a less generous cost-of-living adjustment for benefits, and a very slow rise in the retirement age (from 67 to 68 by 2050; rising to 69 by 2075). It also would expand over 40 years the amount of workers' income subject to the payroll tax.
Control health care costs: The report recommends capping growth in total federal health spending -- everything from Medicare to health insurance subsidies -- to the rate of economic growth plus 1%.
"America cannot be great if we go broke," wrote Bowles, former White House chief of staff under President Clinton, and Simpson, a former Republican senator from Wyoming.
The full panel will vote on the recommendations by Dec. 1, the date of the commission's last public meeting.
Most observers and commission members -- including 12 sitting lawmakers -- have been pessimistic that the panel will be able to generate the 14 of 18 votes needed to make any official recommendation to Congress, which would put it up for a vote.
'This is just the beginning'
The White House said Wednesday that Obama would not comment until the commission finishes its work in several weeks, calling the report "a step in the process."
The commission met Wednesday morning to discuss the Bowles-Simpson report. Initial public reaction from members ranged from guardedly positive to negative.
"This is not the conclusion of the commission's work. This is the beginning," said Senate Budget Chairman Kent Conrad, a Democrat from North Dakota, who nevertheless commended Bowles and Simpson for putting together a "serious proposal."
Fellow commission member Judd Gregg, the top Republican on the Senate Budget Committee who co-authored a bipartisan tax reform proposal cited in the draft, characterized the report as an "aggressive and comprehensive plan ... I look forward to reviewing it in depth and hopefully improving on it." (Bowles: 'Headed for disaster' - Video)
Other members were more blunt.
"This is not the way to do it," said Rep. Jan Schakowsky, a Democrat from Illinois.
Senate Finance Committee Chairman Max Baucus, a Democrat from Montana, says he has "significant concerns" with the proposal and "can't support it now."
Meanwhile, Maya MacGuineas, who runs the nonpartisan Committee for a Responsible Federal Budget, called the report "remarkable."
"In a period when there has been little good news on the deficit and debt front, this is truly a most encouraging sign."
-- CNN congressional producer Ted Barrett contributed to this report.