Stocks: No comeback after Cisco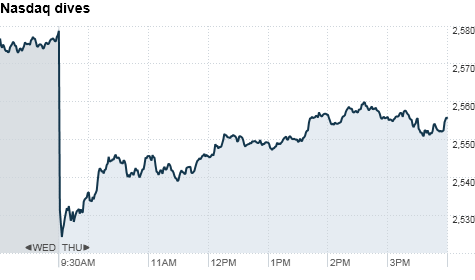 NEW YORK (CNNMoney.com) -- Stocks sold off at the open and never looked back Thursday after a disappointing outlook from Cisco Systems dragged on the technology sector all day.
The Dow Jones industrial average (INDU) fell 0.7% to close at 11,283, after falling as much as 1% earlier in the trading session.
The S&P 500 (SPX) lost 0.5% to close at 1,214, and the biggest loser was the tech-heavy Nasdaq (COMP), which fell 0.9% to close at 2,556, after plunging 2% in the morning.
Cisco's (CSCO, Fortune 500) lower outlook for the year initially got the tech sector off to a rocky start, and stocks grappled to make up some lost ground throughout the day.
"There was a realization that the world didn't end because of Cisco," said David Kotok, chairman and chief investment officer at Cumberland Advisors. "What's really driving stock prices today, yesterday and tomorrow more than anything else, is the central bank policies of very low interest rates for a very long time."
Kotok is referring to the Federal Reserve's policy of quantitative easing -- a $600 billion bond-buying spree the central bank announced last week. The news has sent stocks trending generally upward, as investors welcome the stimulus effect of the policy.
Meanwhile, investors are feeling jittery amid a gathering of the world's largest nations in Seoul, South Korea. The stakes are high at the Group of 20 meeting, especially as the European sovereign debt crisis and currency tensions once again move to center stage.
Market participants are hoping the meeting will conclude with a clear, detailed direction about where the world economy is headed. But if the end result is of little substance, markets could interpret that as a sign of more uncertainty and weakness in the economy.
"Investors want confidence," said Jim King, president and chief investment officer of National Penn Investors Trust Company. "They want to be confident in the direction of the economy, and that we're closer to creating solutions rather than creating more problems."
Stocks posted slight gains Wednesday after spending most of the session in the red.
Economy: World leaders including President Obama convened at the G-20 summit in Seoul that began Thursday. Heads of the world's major economies were expected to discuss recent currency tensions, as well as other global economic challenges and regulations.
Treasury Secretary Tim Geithner pushed back against an op-ed piece in the Financial Times written by former Fed Chairman Alan Greenspan that suggested the United States was pursuing a policy of currency weakening.
"The United States of America will never do that," Geithner told CNBC. "We will never seek to weaken our currency as a tool to gain competitive advantage or grow the economy."
World markets: European stocks closed little changed. Britain's FTSE 100 and the DAX in Germany were flat, and France's CAC 40 dipped 0.5%.
Asian markets ended higher. The Shanghai Composite gained 1%, the Hang Seng in Hong Kong ticked up 0.8% and Japan's Nikkei was up 0.3%.
Currencies and commodities: The dollar strengthened against the euro and the Japanese yen, but fell against the British pound.
Oil for December delivery settled flat at $87.81 a barrel.
Gold futures for December delivery rose $7.60 to settle at $1,406.90 an ounce.
Companies: Before the opening bell, media conglomerate Viacom (VIAB, Fortune 500) beat Wall Street expectations with strong earnings -- excluding writedowns from its Harmonix video game division, which Viacom plans to sell. Shares of Viacom moved 3% higher during the trading session.
In a surprise early release of its fourth-quarter earnings report just before the closing bell, rival Walt Disney (DIS, Fortune 500) announced earnings of 45 cents per share, falling short of analyst estimates. The Street was looking for 46 cents per share, according to analysts polled by Thomson Reuters. Its stock fell 2.8% before the closing bell.
Treasury markets, government offices and some banks were closed Thursday in observance of Veterans Day.