Emerging markets? They've already emerged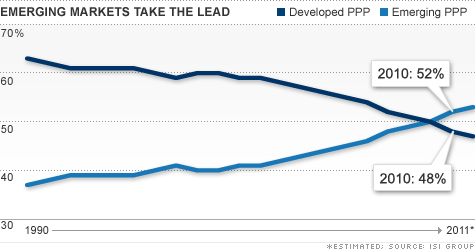 NEW YORK (CNNMoney.com) -- Perhaps we should call them emerged markets.
There really is no denying the clout that China, India, Brazil and many other so-called developing markets now have on the global economic stage.
World leaders are in Seoul for a key G-20 meeting, and there are obvious tensions regarding currencies and trade practices that need to be resolved.
But for investors, it's time to stop worrying about the rhetoric and embrace the fact that many emerging market economies are now growing at a much more rapid clip than the United States, Europe and Japan.
Many experts say that investors have to think more globally. According to data from ISI Group, the purchasing power parity, a measure of economic strength, of emerging markets surpassed the PPP of developed nations this year. The gap is only likely to get wider in the coming years.
Part of the reason for this is simple demographics.
"Developing markets make up about 20% of the world's market value but account for about 80% of the population," said Brent Jones, portfolio manager of emerging markets equities with GE Asset Management in Stamford, Conn.
"Emerging markets should outpace the developed world in terms of GDP growth, especially now that you have the rise of a more wealthy middle class," he added.
Another major advantage that the emerging markets have is that they simply did not gorge on debt as much as governments and consumers in the United States and Europe did in the past decade. (Those Naughty Aughties!)
"Fiscal deficits in emerging markets are roughly half of the developed world," said Cristina Panait, co-manager of the Payden Emerging Markets Bond Fund in Los Angeles. "Also, in terms of the leverage in their banking systems and with consumers, the fundamentals are a lot sounder in Latin America and Asia."
Panait also said that population growth, and the resulting increase in demand for consumer goods that creates, is a main factor behind the desire to invest in emerging markets.
There are many ways to try and capitalize on this trend. But experts said the safest is probably through exchange-traded funds. ETFs trade like stocks but own several investments like mutual funds. And ETFs typically have much lower fees than funds.
Two of the more prominent emerging market ETFs are the Schwab Emerging Markets Equity ETF (SCHE) and iShares MSCI Emerging Markets Index (EEM).

John Praveen, chief investment strategist for Prudential International Investments in Newark, N.J., also said that investors should not ignore large U.S.-based multinational companies, such as Caterpillar (CAT, Fortune 500), United Technologies (UTX, Fortune 500) and Procter & Gamble (PG, Fortune 500), that stand to gain from increasing their exposure in emerging markets.
But Panait urged investors to be cautious. Not every emerging market is the same.
She's investing in sovereign debt in Brazil and Indonesia for example, as well as corporate bonds of mining and banking companies in India. However, Panait is avoiding Eastern and Central Europe, which has many of the same fiscal problems plaguing the so-called PIIGS nations in the more developed parts of Western Europe.
But Jones said that riskier and smaller emerging markets may actually be more attractive for the long-term. Investors typically refer to these countries as frontier markets or pre-emerging markets.
That list usually includes the likes of Romania and Slovenia in Eastern Europe, African nations such as Kenya and Nigeria, smaller Middle Eastern countries Kuwait and Lebanon as well as less-developed Asian markets like Vietnam and Sri Lanka.
There are several exchange-traded funds for investors interested in these markets, such as the Claymore/BNY Mellon Frontier Markets (FRN) and SPDR S&P Emerging Middle East & Africa (GAF) ETFs.
Still, investors have to be extremely careful when looking to invest in any emerging market. Many investors have already decided to embrace them.
Inflows into emerging market bond funds so far this year have already hit an annual record, according to fund tracker EPFR Global. And according to figures from early November, inflows into emerging market stock funds are also on pace to set a new record this year.
That worries Michelle Gibley, senior market analyst with the Schwab Center for Financial Research in Denver.
"I'm becoming a little uneasy about emerging markets in the short-term," she said. "The sentiment is so one-sided. It's hard to find people that are not bullish."
Gibley added that a big reason for the enthusiasm about emerging markets is that commodity prices are soaring. That may continue for some time -- but not indefinitely.
Many developing countries, particularly Russia and Brazil, are big exporters of oil. China also has a vast supply of many metals. Gibley said that commodity prices may continue to rise thanks to the Federal Reserve's controversial decision to buy more long-term Treasury bonds in order to keep interest rates low.
Many view this policy of quantitative easing as something that will lead to further weakness in the dollar, and that should fuel even higher prices of commodities that are priced in dollars in the short-term.
But we all know by now how ugly it can be when momentum finally runs out of a hot sector. (Tech stocks in 2000 or housing in 2007 anyone?) Gibley said that all it may take to end the commodity boom is for economic growth in the U.S. to be a bit higher than expected and that could lead the greenback to rally.
"It's a case of the haves and have-nots and the emerging markets are the haves right now," Gibley said. "I still like the emerging markets for the long-term but you have to be concerned that low rates in advanced economies is fueling a bubble."
- The opinions expressed in this commentary are solely those of Paul R. La Monica. Other than Time Warner, the parent of CNNMoney.com, and Abbott Laboratories, La Monica does not own positions in any individual stocks.