Cashing in on Corporate America's $1 trillion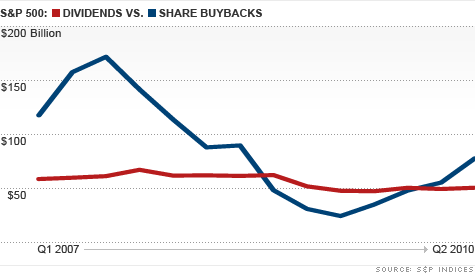 NEW YORK (CNNMoney.com) -- Corporate America's wallet is bulging with $1 trillion and the rumor mill is heating up.
What will companies do with all that cash?
Will Yahoo (YHOO, Fortune 500) tie the knot with AOL (AOL)? Was there anything to the meeting between Microsoft (MSFT, Fortune 500) and Adobe (ADBE) CEOs? Is coal miner Massey Energy (MEE) a takeover target? Who will raise dividends? Stock buybacks, anyone?
It remains to be seen whether the M&A buzz is true or just hot air, but there's one thing for certain: "Executives are under intense pressure to put that cash back to work in the marketplace," said Cathy Gregg, partner of Chicago-based consulting firm Treasury Strategies.
According to a survey of 300 companies that the firm conducted last summer, nearly a quarter plan to reduce their cash balances over the next six months. More than a third of those companies are planning to make acquisitions, with 12% expecting to improve dividends, which would put cash directly into a shareholder's pocket.
M&A activity in the third quarter surged 68% from a year earlier, totaling more than $850 billion, according to Dealogic. That marked the busiest quarter in two years. Takeovers targeting American companies more than doubled to $255 billion -- the highest since the first quarter of 2009.
Though the technology, pharmaceutical, energy and consumer product sectors are leading the activity, experts anticipate there will be a broad-based increase in acquisitions moving forward.
"Investors have been fleeing the stock market, so valuations for companies are very, very attractive," said Bahman Mossaver-Rahmani, chief investment officer and founder of UAS Asset Management.
While it's hard to navigate the rumors, he recommends major pharmaceuticals as safe bets for investors who want to benefit from corporate deal making.
"A lot of drug companies have not been able to replace their blockbuster drugs, so they're going out and buying biotech companies that are already spending the time and money developing these drugs," said Mossaver-Rahmani, whose firm owns shares of Pfizer and Johnson & Johnson. "Acquisitions are essential for their business strategies."
A number of companies are also planning to launch or accelerate their stock buyback programs, many of which were suspended or canceled during the downturn, as well as dividend increases, said Brian Hogan, president of the equity division of Fidelity Investments.
"All of those have the ability to reignite earnings, and in turn, boost shareholder value," he said.
Buybacks and dividends
To pump up their stock value, companies often use spare cash to repurchase their own shares. What that does is reduce the number of outstanding shares on the open market. And ultimately, it helps boost earnings per share because net profit is divided among fewer shareholders.
More than half of the S&P 500 (SPX) companies bought back stock during the second quarter of 2010, with buybacks surging to $77.64 billion, according to Standard & Poor's. That's up a whopping 220% from a record low of $24.2 billion in the second quarter of 2009.
The tech sector accounted for 27% of those purchases, with IBM (IBM, Fortune 500), Microsoft (MSFT, Fortune 500), Hewlett-Packard (HP), Cisco (CSCO, Fortune 500) and Qualcomm (QCOM, Fortune 500) all participating. Consumer staple and health care companies followed close behind at about 19% each.
Wal-Mart (WMT, Fortune 500) and IBM coughed up more than $4 billion for repurchases, while Gilead Sciences (GILD, Fortune 500) was the health care industry's biggest spender at $1.7 billion.
Standard & Poor's predictes buyback growth and expenses will reach $300 billion by the end of the year. That's more than twice the amount spent in 2009, and would outpace the rise in dividends, which didn't decline as much as repurchases during the recession.
Still, 135 companies in the S&P 500 hiked dividends in the first half of 2010, and only two have cut them, according Standard & Poor's. That's a significant improvement from the same period in 2009, when only 87 of the S&P 500 increased dividends, with 65 reducing them.
Dozens of companies have recently increased their dividends, including hotel giant Marriott International (MAR, Fortune 500), which doubled its payout. Theater operator Cinemark Holdings (CNK) and Tupperware Brands (TUP) both boosted their dividends by about 20% from the previous quarter. Outdoor apparel maker Columbia Sportswear Co. (COLM) announced a special cash dividend, a bonus on top of last month's announcement for an 11% increase on the company's quarterly dividend.