Wal-Mart ups the ante with free shipping offer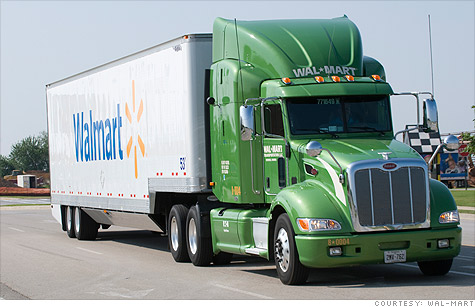 NEW YORK (CNNMoney.com) -- Wal-Mart announced free online shipping Thursday on 60,000 holiday items with no minimum purchase required, a significant move that's likely to rattle its competitors in the crucial year-end sales race to Christmas.
Wal-Mart (WMT, Fortune 500), the world's largest retailer, said the offer is valid now through Dec. 20 at Walmart.com and includes all electronics except iPods and iPads, select video games, toys, home appliances, furniture, baby products, jewelry and other items.
Target trots out $3 appliances on Black Friday

Some of the items covered by the offer: a Sony Bravia 46-inch 1080p LCD HDTV for $898, an HP Garden Dreams 14.5-inch Pavilion Special Edition Laptop with Windows 7 for $598 and the Sony Handycam 4GB Flash Memory Camcorder for $249.
Wal-Mart said the new initiatives, which includes free return shipping as well, is designed to complement its "Site to Store Program", which provides free shipping to a Wal-Mart store on items purchased online.
Consumers should be aware of other exceptions to the free shipping program.
Wal-Mart said the offer is not valid on tires and shipping surcharges may still apply in Alaska, Hawaii and Puerto Rico.
"Customers are doing all they can to save money this holiday, so we're excited to offer free shipping to home, with no minimum purchase requirement as an early Christmas present to them," Steve Nave, general manager of Walmart.com said in a statement.
However, Wal-Mart also needs to pull out all stops in order to lift sales in its most important sales period of the year.
So far this year, Wal-Mart has struggled to lift sales at its discount stores and has even lost market share to its other value-priced and dollar store competitors.
And the November-December period can account for 50% or more of retailers' sales and profit for the full year.
Wal-Mart executives last month expressed a sense of urgency in doing what was needed to ensure that the retailer becomes highly competitive in the run-up to Christmas.
For its holiday strategy, Wal-Mart U.S. head Bill Simon said Wal-Mart was placing heavy emphasis on toys and electronics.
"Customers will see our offerings and be very happy," he said. The company recently rolled out Apple's (AAPL, Fortune 500) iPad into about 2,500 Wal-Mart stores.
Sam's Club executives also said the iPad would be in Sam's Club locations over the holidays.
Wal-Mart is also setting up a "Santa's gift shop" display in its stores to showcase the hottest holiday toys, he said.