Make Money in 2011: The Economy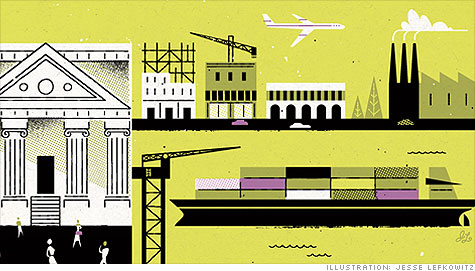 NEW YORK (MONEY Magazine) -- Here's the happy news: Despite fears of a dreaded double dip, the economy isn't likely to slip back into recession in 2011, most experts say.
Unfortunately, the more probable scenario is no great shakes, either: lackluster growth and persistently high unemployment. "We're in economic purgatory," says Barry Ritholtz, CEO of research firm Fusion IQ.
Indeed, the consensus of about 50 economists polled each month by Blue Chip Economic Indicators is that gross domestic product will rise just 2.5% in 2011, which is well below the long-term average of 3%. At that sluggish pace, the economy will barely be able to create enough jobs to offset the number of new workers entering the labor force.
Why the tepid forecast? Blame sluggishness in two areas that have led past recoveries: consumer spending and housing. Consumer spending, which accounts for about 70% of GDP, is rising, but more slowly than in previous expansions, due largely to concerns about jobs.
"People are nervous, so they're paying off debt and saving more -- and that isn't likely to change much next year," says Mark Zandi of Moody's Analytics.
Another big worry: home prices, which will remain under pressure from mounting foreclosures.
To help spur growth, the Federal Reserve appears poised to pump as much as $1 trillion more into the credit markets in 2011 to hold lending rates down. But most economists believe the influx of cash will have little effect because banks remain wary of lending to all but the most credit-worthy of customers. Meanwhile, the prospects for another big round of government stimulus are remote, given the massive deficit and the political climate.
The one major bright spot in the outlook: Big companies have racked up impressive earnings and are now sitting on a pile of cash.
"The only issue is how quickly they're going to start using that cash to rehire," says IHS Global Insight chief economist Nariman Behravesh, who expects employers to ramp up staffing in the last quarter of 2011.
That raises the prospect of an even happier new year in 2012.
The Wildcards
Chinese slowdown. Chinese officials have been trying to slow down the country's red-hot economy. But can they cool it to the right temperature? If China falls too hard in 2011, U.S. growth will suffer.
Political gridlock. A divided Congress means that policy-makers will have a harder time responding if the economy stumbles badly, notes Zandi. That would raise the odds of a double dip.
What to Watch
For growth to pick up, optimistic shoppers have to open their wallets. For insight, track the Consumer Confidence Index at conference-board.org. The consumer is coming back when you see a consistent reading above 60, vs. its recent level of 48.5.