Make Money in 2011: Your Savings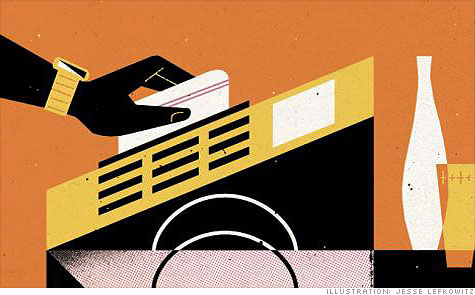 NEW YORK (MONEY Magazine) -- Savers, steel yourselves for another low-yield year. Interest rates on savings accounts, CDs, and money markets have been barely there for a while -- bank savings accounts are paying a paltry 0.2% on average, while money-market funds offer a dismal 0.04%.
Don't count on bigger payouts anytime soon, since savings rates are tied to the Federal funds rate, which has ranged from zero to 0.25% for two years.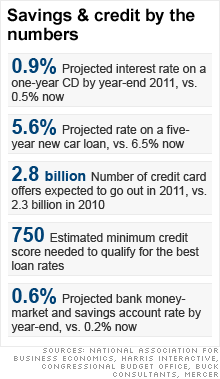 "The Fed won't move rates until the second half of 2011 at the earliest," says Diane Swonk, chief economist for Mesirow Financial. Even then, the consensus forecast from the National Association for Business Economics puts the Fed funds rate at just 0.5% by year's end.
The upside for 2011? The credit spigot that's been tightly closed will slowly start to open.
Exhibit A: U.S. households should receive an estimated 2.3 billion credit card offers in 2010, up 62% from 2009, and the number is expected to hit 2.8 billion in 2011, according to the research firm Synovate.
Still, don't expect a return to the freewheeling-credit days before the financial crisis. Banks are firmly focused on lending only to those with sterling credit histories.
Two out of every three card offers now go to people with excellent credit, Synovate reports, vs. two out of five before the downturn.
Adding to lenders' reluctance to make risky loans: Many of the fees they could earn have been limited by 2010's landmark banking reforms. New rules limiting overdraft fees and credit card rate hikes will cost the industry $11 billion a year, according to bank advisory firm R.K. Hammer.
With the new Consumer Financial Protection Bureau scheduled to be up and running in July, expect an even bigger focus on enforcing those reforms, says Travis Plunkett, legislative director of the Consumer Federation of America.
Banks, though, will keep inventing fees to offset losses, experts say. Watch for higher fees on overseas purchases, paper statement fees, card replacement fees -- possibly even a fee for complying with reforms, similar to the 9/11 security fees on plane tickets, says John Ulzheimer of Credit.com.
WILDCARD: A worsening foreclosure crisis could infect all credit markets, says Bankrate.com analyst Greg McBride. If mortgage investors have doubts about the value of the real estate behind the loans they own, or if banks can't foreclose quickly enough, the availability and price of credit could be hit hard. Says McBride, "Worst case scenario: We're back to the post-Lehman days of 2008."
WHAT TO WATCH: Keep an eye on the five-year Treasury yield. If you see a sustained move in one direction for at least a month and a change of one full percentage point, bank rates will follow, says Richard Barrington of MoneyRates.com.
ACTION PLAN 1: Spread out your bets. While you wait for rates to perk up, you can squeeze out extra yield without locking up your cash by using a strategy called a barbell. Divide your savings among very short-term vehicles, like savings accounts and six-month CDs, and longer ones, like four- and five-year CDs, for a higher average yield.
Just make sure the withdrawal penalties on the longer CDs aren't too steep.
"If rates pick up in two to three years, you can withdraw the money from the five-year CD, fork over the penalty, and still come out with a better rate than on a two-year CD," says McBride.
Ally Bank's five-year CD, which pays 2.5%, docks you for only two months of interest when you cash out early. So even after paying the penalty, you'll end up with an effective yield of 2.3% if you take out the money after two years.
ACTION PLAN 2: Join the credit elite. Burnish your credit score to 750 or higher next year and you'll have more choice when it comes to landing the best deals on everything from credit cards to car loans, says Ulzheimer. (Check your score for $16 at myfico.com.)
The quickest way is to pay down debt and keep any outstanding balances to less than 20% of your available credit. Also, to make sure credit report errors aren't dragging down your grade, order a free copy of your history at annualcreditreport.com.
ACTION PLAN 3: Don't settle. Bank competition is back, says Barrington of MoneyRates.com, so shop around, especially at online banks. For example, a savings account at Sallie Mae Bank pays 1.40%, vs. 0.2% for the average account.
And use your excellent credit score to your advantage, especially for rewards cards, which are beefing up programs to entice the best users.
"Issuers are very aggressively pursuing people with excellent credit," says Bill Hardekopf of LowCards.com.
For example, Chase Freedom is offering a $100 cash-back bonus after you spend $799 in the first three months. But you need a score of at least 730 to qualify, estimates Curtis Arnold of CardRatings.com. At nerdwallet.com, you can search for cards based on your spending patterns.
ACTION PLAN 4: Say bye to the big boys. One way to beat the sneaky fees of the megabanks: Move your dough to a community bank or credit union (search at findacreditunion.org).
Those institutions will probably fight for customers by offering services like free checking, says Mike Moebs of Moebs Services, a bank research firm. Indeed, even as major banks charge more for the basics, Bankrate's most recent survey reveals that 39 of the nation's 50 biggest credit unions still offer free checking accounts, no strings attached. That's a good deal any year.
Make Money in 2011: The Economy
Make Money in 2011: Your Investments
Make Money in 2011: Your Home