Stocks close out worst week in 3 months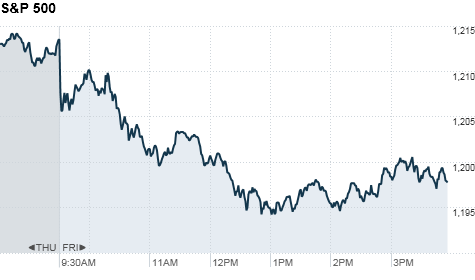 NEW YORK (CNNMoney.com) -- A sell-off in U.S. stocks picked up steam Friday afternoon, following a volatile trading session in Asian markets that ended with the Shanghai Composite down more than 5%.
The Dow Jones industrial average (INDU) fell 91 points, or 0.8%, with 26 of the 30 blue chip index's components ending in the red. Boeing (BA, Fortune 500) and Alcoa (AA, Fortune 500) were the biggest laggards.
The S&P 500 (SPX) lost 14 points, or 1.2%, and the tech-heavy Nasdaq (COMP) decreased 37 points, or 1.5%.
The steep slide came at the end of a mostly down week, with the Dow and the S&P posting losses for four out of the last five days. All three major indexes logged their biggest weekly drops in three months: the Dow and the S&P fell 2.2%, while the Nasdaq sank 2.4%.
"Good news is in short supply this afternoon," said Kim Caughey, senior equity analyst at Fort Pitt Capital Group. "The news coming out of the G20 and China as well sovereign debt issues in Europe that seem to have bottled up have caught investors' eyes."
G-20 leaders finished up their meeting in Seoul, South Korea, without any comprehensive plan to combat global economic woes. But they did agree to address "persistently large imbalances" next year.
Worries about the global economy are also rearing their ugly head: Concerns about a Europeans sovereign debt crisis, potential tightening of China's monetary policy, and tepid U.S. growth.
Global economic concerns had taken a backseat recently as investors focused on the midterm elections, corporate earnings season and the Fed's quantitative easing announcement.
Now that those events have played out, traders have refocused their attention, said Karl Mills, president and chief investment officer at Jurika Mills & Keifer.
"The market became too complacent about sovereign debt issues and now we're being reminded of that again, with Ireland being the biggest problem child," Mills added.
World markets: Asian markets ended the session decidedly lower, as investors fear future interest rate hikes in China. The Shanghai Composite plunged 5.2%, the Hang Seng in Hong Kong dropped 1.9% and Japan's Nikkei ticked down 1.4%.
"China clearly signaled the potential for tightening by raising the [banking] reserve requirements earlier in the week," said Philip Isherwood, equities strategist at Evolution Securities.
Interest rate hikes are expected due to rising inflation, Isherwood said. Led by food prices, the Chinese consumer price index has been on the rise in recent months.
"Where there is excess growth, there are fears of excess inflation," Isherwood said.
European stocks ended mixed, amid worries of the eurozone's fiscal crisis. Britain's FTSE 100 edged lower by 0.3%, while the DAX in Germany edged up 0.2%. France's CAC 40 declined 0.9%.
Economy: The University of Michigan Index of consumer sentiment for early November rose to 69.3 from 67.7. Economists were expecting the reading to rise slightly to 69.0.
Companies: Before the opening bell, retailer JC Penney (JCP, Fortune 500) reported third-quarter earnings of 19 cents per share on $44 million in net income, topping analyst expectations.
The jump in net income represents a 63% increase year-over-year for the company. JC Penney said it expects strong sales heading into the crucial holiday shopping season. Shares of JC Penney fell 3.4%.
Walt Disney Company's (DIS, Fortune 500) results were unexpectedly released about 30 minutes before the market closed Thursday. The company said profits fell in the third quarter, missing analysts estimates. Shares rose 5.1%.
Northrop Grumman (NOC, Fortune 500) said early Friday that it would reduce its workforce by 380 salaried employees at its Newport News, Va., shipbuilding facility. The reductions are effective immediately. The stock slipped 1.8%.
Shares of Intel (INTC, Fortune 500) rose 1.5% after the chipmaker said it is increasing its quarterly cash dividend 15% to 18 cents per share, which will be paid during the first quarter of 2011.
Currencies and commodities: The dollar weakened against the euro, the British pound, and the Japanese yen.
Currency has been a hot topic for the G-20 summit, and the leaders declared at the close of the meeting an effort to "refrain from competitive devaluation of currencies." An issue both former chairman of the Fed Alan Greenspan and U.S. Treasury Secretary Timothy Geithner don't see eye-to-eye on.
Oil for December delivery slipped $2.93 to settle at $84.88 a barrel.
Gold futures for December delivery fell $37.80 to finish at $1,365.50 an ounce.
Bonds: The price on the benchmark 10-year U.S. Treasury dropped, pushing the yield up to 2.79%. The Treasury market was closed Thursday for the Veteran's Day holiday.