Chevy Volt: Motor Trend Car of the Year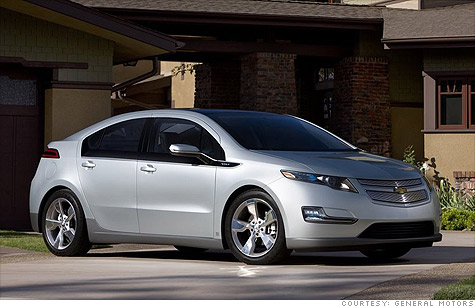 NEW YORK (CNNMoney.com) -- Motor Trend Magazine has named General Motors' Chevrolet Volt its "Car of the Year."
The magazine's editor-in-chief, Angus MacKenzie, called the award one of "the most significant" Car of the Year awards in the magazine's history. Motor Trend has been published since 1949.
The Chevrolet Volt, which is just entering commercial production this month, is a plug-in car that can drive for about 40 miles on battery power before a gasoline engine kicks in to generate electricity for further driving.
"The more we think about the Volt, the more convinced we are this vehicle represents a real breakthrough," said Mackenzie.
The Volt offers the lower cost and greater efficiency of purely electric operation, MacKenzie said, while providing the flexibility and long driving range American consumers have come to expect from their cars.
The Volt has been the subject of much controversy, in large part because it started development as a project of "Old GM" but is emerging just as a new, post-bankruptcy General Motors prepares to sell some of the government's majority ownership stake in the company.
"As a result, a lot of the sound and fury that has surrounded the Volt's launch has tended to obscure a simple truth: This automobile is a game-changer," Motor Trend said in a story about the award.

The award was presented at a ceremony inside GM's wind tunnel at the automaker's technical and design center near Detroit.
Motor Trend, one of the most influential automotive enthusiast magazines in the United States, also gives out SUV of the Year and Truck of the Year awards. The SUV of the Year was announced earlier with the award going to the Porsche Cayenne. The Truck of the Year will be announced in December.
To be considered, a vehicle had to be a totally new model or be significantly changed for the 2011 model year. Vehicles were judged on six different criteria: design, engineering, efficiency, safety, value and how well the vehicle fulfills its intended function.
The cars were put through track tests by Motor Trends editors. Then cars that were not eliminated in the track testing process were put through additional road tests.
Over several days of testing, the Volt returned overall fuel economy of 72.9 miles per gallon in Motor Trend's testing. Even if drivers went 80 miles between charging the battery, Motor Trend reported, the Volt would still be much cheaper to operate than ordinary hybrid cars, according to the magazine's test.
Past winners of the award have included the Chrysler 300 in 2005, Toyota Prius in 2004 and the Ford Taurus in 1986.