Zynga expands social gaming empire with CityVille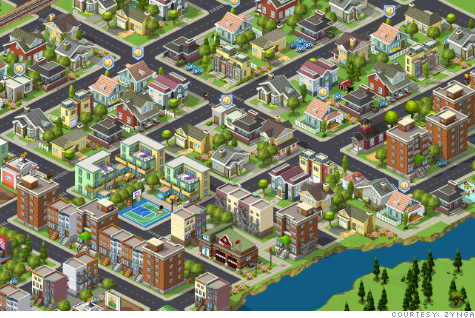 SAN FRANCISCO (CNNMoney.com) -- Social gaming giant Zynga, the developer of FarmVille, is readying a fresh hit for its addicts: CityVille.
CityVille -- which Zynga calls its "most social game" so far -- is the company's first global launch, with versions coming out simultaneously in English, French, Italian, German and Spanish. A beta version will be available in the next few weeks, Zynga announced late Wednesday.
To play CityVille, gamers set up restaurants and businesses, export goods via trains and boats, build schools and clear land for city expansion. It's a scenario that will feel familiar to fans of SimCity, the "build your own metropolis" game that debuted in 1989 and launched a string of bestselling sequels.
CityVille's "more social" layer lies in cross-city communication: Players can interact with their friends' cities by franchising businesses, sending over goods and establishing trade relationships. CityVille's graphics are also sharper than those in Zynga's past games, including the first 3-D buildings and characters in a Zynga game.
Zynga has an audience of more than 225 million users playing its games each month through its Facebook, MySpace, iPad and iPhone applications. The company is one of Silicon Valley's hottest startups, drawing intense interest from investors.
Zynga creator Mark Pincus spoke briefly on Tuesday at the Web 2.0 Summit in San Francisco. In a vague talk that lasted less than 10 minutes, Pincus said he wants to "dog activate" the Web -- that is, make Zynga's canine logo as ubiquitous as the Facebook icon. If a Zynga logo pops up, users will know their friends are logged on and playing one of the company's games.
Pincus said he wants to roll out that feature within the year.

-- CNNMoney.com video producer Mason Cohn contributed to this report.