GM stock makes strong debut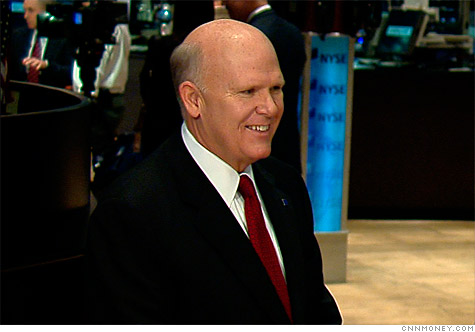 NEW YORK (CNNMoney.com) -- General Motors' new stock got a good start out of the gate Thursday, opening at $35, up 6% from its offer price in its first trade.
The newly minted stock remained strong, with shares reaching as high as $35.99, or up 9%, before slipping back in early-afternoon trading. Still it ended the day at $34.19, up nearly 4% from the open price.
The automaker, just 17 months removed from a bankruptcy filing and federal bailout, raised $20.1 billion with the $33-a-share pricing announced Wednesday evening, the most money ever raised with a first day stock offering. Strong investor interest allowed GM (GM) to significantly raise both the price and the number of shares offered from its original plans for a $13 billion offering.
The U.S. Treasury Department, which took a 60.8% stake in GM in return for the $50 billion bailout that saw it through bankruptcy, sold 75% of the common shares put up for sale Thursday. That will return at least $11.8 billion to taxpayers.
But even with that stock sale and other money returned to the government by GM, about $27 billion remains unpaid. Whether taxpayers get that back will depend upon the price the government gets for its remaining 33% stake in the company when it sells shares in the future. The share price will have to rise about 65% in order for taxpayers to break even.
President Obama said Thursday afternoon the successful offering is a sign that the "tough decisions" made during the financial crisis are "starting to pay off."
"American taxpayers are now in a position to recover more than my administration invested in GM," Obama said in a press conference. The bailout of GM was initiated under the administration of president George W. Bush.
Obama acknowledged that "we still have a long road ahead," but he stressed that the American auto industry "is once again on the rise."
Still, the pricing of the offering is seen as relatively aggressive. If the stock rises another 24% to $40.85, it would match the record high for the company's market value, set in 1999 -- a boom year for car sales. Today, car sales are still well below pre-recession levels.
New CEO Dan Akerson said this was the right time for the company to go public again, but stopped short of promising that taxpayers would be paid back with future stock sales.
In January, then-CEO Ed Whitacre promised that taxpayers would be repaid and might even make money on the bailout.
"I think the government's investment is well placed and I think they'll make a lot of money," Whitacre told CNNMoney at the annual auto show in Detroit. "It won't be too long."
But Thursday, Akerson, who succeeded Whitacre as CEO in September, was more cautious when speaking to CNNMoney on the floor of the New York Stock Exchange Thursday before the start of trading.
"I don't know where the market is going to be a year or two down the road, so I can't make such a bold statement," he said. "Sure, I'm hopeful, and I'm not saying it can't happen. I think the company is well positioned ... so things look good for General Motors."
He came close to making an earnings forecast for the year, saying the company is projected to make between $5 billion and $6 billion in profit for the year. That would mean fourth-quarter profit of between $800 million and $1.8 billion. All the company had said earlier is that profits would be down significantly from the $2 billion it earned in the third quarter, which was GM's biggest profit in 11 years.
Akerson said he's pleased that the company's partner in China, SAIC Motor Corp., had bought a 1% stake in GM as part of the public offering.
"I think SAIC has been a great partner. We hold the No. 1 position in market share in China, and that's good for America," he said. "I think that [1% stake] is an indication of the strategic relationship between the two companies and I think that's a strong plus."
GM Chief Financial Officer Chris Liddell told reporters on a conference call that there had been strong interest in the offering from sovereign wealth funds, the investment entities controlled by foreign governments. But he said that was balanced by so much domestic demand for shares that 90% of the offering ended up being purchased by North American investors.
Liddell wasn't clear if GM employees and retirees, who had the opportunity to buy up to 5% of the shares, had fully purchased that allocation, but he said he believed demand was close to full. And he said $4 billion of the shares, or about 20% of the offering, had been purchased by retail investors rather than major institutional investors such as mutual funds, pension funds or hedge funds.