Verizon Wireless says phone data cap was an error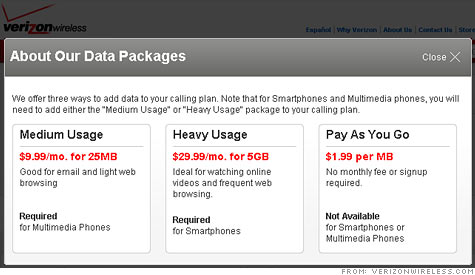 NEW YORK (CNNMoney.com) -- Verizon Wireless accidentally told smartphone customers visiting its website that the company's top data plan would be capped at 5 gigabytes.
The wireless giant says the apparent data cap -- spotted Thursday by CNNMoney -- was an error, and that it continues to offer unlimited data to its phone customers for $29.99 a month.
The flub comes a day after Verizon CEO Ivan Seidenberg told the Wall Street Journal that pricing changes are coming, but declined to say whether the company's unlimited data plan would be discontinued.
"I don't think the world's that simple," he told the Journal. "We need to get into it, figure out what the customer thinks is fair, and go from there."
A spokeswoman for Verizon Wireless denied that the 5 GB cap listed on the site is a sign of things to come. But HTML doesn't write itself. Verizon Wireless has long been rumored to be considering capping its data offering.
Most wireless companies, including Verizon, have begun to use tiered data plan pricing for smartphone customers.
In June, AT&T became the first carrier to offer a tiered model, allowing users to download 200 megabytes of data a month for $15, or 2 GB for $25. Existing customers can choose to keep their $30 unlimited data plan, but new buyers don't have that option. If they go over the 2 GB max, each extra 1 GB costs $10.
T-Mobile followed suit, but kept an unlimited option available. It offers a 200 MB plan for $10 or unlimited data for $30 a month. But T-Mobile found another way to curb its biggest data hogs: After a user downloads 5 GB in a month, T-Mobile begins to throttle down the speed at which they can access data.
Late last month, Verizon (VZ, Fortune 500) joined the game, adding a 150 MB data plan for $15 a month. However, it also kept its unlimited option for $29.99.
Sprint Nextel (S, Fortune 500) remains the last holdout without a tiered data plan.
The issue of metering data use has become increasingly pressing as data-sucking smartphones become more prevalent. The tiny computers allow users to download and upload huge files like video, photos and music, in addition to webpages and e-mail.
Though less than 15% of mobile phone shipments in 2009 were smartphones, they'll account for more than 45% by 2014, according to Gartner.
Since the iPhone made its way onto the scene in 2007, AT&T said data downloads on its network have increased 5,000%.
The carrier was unprepared for that growth: Bandwidth restrictions have crippled AT&T's network in New York and San Francisco. Though a fix is in the works, upgrading network capacity costs carriers billions of dollars each year.
Both Verizon and AT&T (T, Fortune 500) are working to launch 4G-LTE (Long Term Evolution) networks, in an effort to increase their network speed and capacity. Verizon's network is scheduled to debut later this year, and AT&T's is expected to launch in 2011.
Seidenberg told the Journal that, unlike AT&T, Verizon may choose not to cap the amount of data that users can download. Instead, the network might tier the download speeds that it offers, charging a premium for high-speed access, he said.