Treasuries take a breather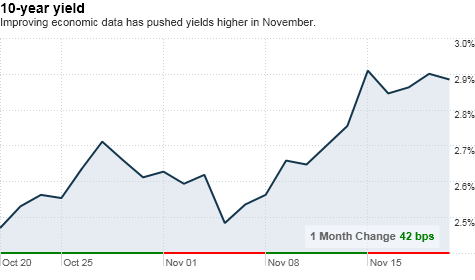 NEW YORK (CNNMoney.com) -- Treasuries were little changed Friday, as investors scurried to the sidelines ahead of a quiet holiday week.
Prices have see-sawed the entire week, amid volatile moves in the stock market and mixed economic reports.
On Thursday, Treasury prices slumped as talk that debt-stricken Ireland may be close to accepting a bailout pushed global markets higher. But as the week came to a close on Friday, some of that euphoria faded and investors were reluctant to take big bets ahead of Thanksgiving week -- typically a slow week for markets.
Stocks also traded in a narrow range Friday, taking a step back from a big rally in the previous session.
"There's not really any meaningful activity today as we head into a very quiet Thanksgiving week, so the larger story here is stability," said Jonathan Lewis, principal of Samson Capital Advisors LLC. "Markets that aren't moving are comfortable with the information they have been given, so right now we're seeing a moment of calm."
Yields: The yield on the benchmark 10-year Treasury note was little changed at 2.88%, from its close of 2.9% on Thursday. The 30-year bond fell to 4.26%, from 4.28%.
Yields on the 2-year note and the 5-year note were unchanged. Treasury prices and yields move in opposite directions.
Improving economic data has pushed yields up significantly in November. A month ago, the yield on the 10-year note was 2.59% and the yield on the 30-year bond was 3.98%.
"We've already seen big moves this month, so without a lot of hard data this week or next -- combined with the technicals of where we are on the calendar in November -- we're in a wait-and-see mode for the moment," Lewis said. "Unless there's a surprise move out of Ireland or some sort of exogenous shock, markets will probably stay in tight range until after Thanksgiving."