2010's top people in business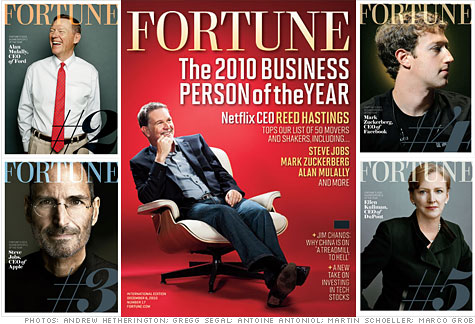 FORTUNE -- When Fortune set out to pick the Businessperson of the Year -- and the 49 runners-up -- we searched for leaders who didn't just crawl from the wreckage of the Great Recession, but sprinted from it. Below is the compete list. Select each name to read more or click here to scroll through the gallery of winners. We also asked readers to tell us who they thought should be at the top of the list. You can find the results of that March Madness-style competition here.
Fortune's Businessperson of the Year, 2010
1. Reed Hastings, Netflix (Read "Leader of the pack" to see how Hastings reinvented Netflix.)
2. Alan Mulally, Ford (F, Fortune 500)
4. Mark Zuckerberg, Facebook
5. Ellen Kullman, DuPont (DD, Fortune 500)
7. Larry Ellison, Oracle (ORCL, Fortune 500)
8. Warren Buffett, Berkshire Hathaway (BRKA, Fortune 500)
9. Ray Dalio, Bridgewater
10. Jeffrey Bezos, Amazon (AMZN, Fortune 500)
11. Eric Schmidt, Google (GOOG, Fortune 500)
12. Mark Pincus, Zynga
13. James Skinner, McDonald's (MCD, Fortune 500)
14. David Novak, Yum Brands (YUM, Fortune 500)
15. Samuel Palmisano, IBM (IBM, Fortune 500)
16. Angela Ahrendts, Burberry Group
17. Larry Fink, BlackRock (BCS)
18. Marc Benioff, Salesforce.com (CRM)
19. Marc Andreessen, Andreessen Horowitz
20. Shlomo Yanai, Teva Pharmaceutical (TEVA)
21. Wang Chuanfu, BYD (BYD)
22. Bob Iger, Walt Disney (DIS, Fortune 500)
23 .Irene Rosenfeld, Kraft Foods (KFT, Fortune 500)
24. Dick Costollo, Twitter
25. Ratan Tata, Tata Group (TTM)
26. Tim Westergren, Pandora
27. Jeffrey Bewkes, Time Warner (TWX, Fortune 500)
28. Howard Schultz, Starbucks (SBUX, Fortune 500)
29. Roger Altman, Evercore (EVR)
30. John Paulson, Paulson & Co.
31. Michael Duke, Wal-Mart (WMT, Fortune 500)
32. Michael White, DirectTV (DTV, Fortune 500)
33.Bill Gross, PIMCO
34. Terry Lundgren, Macy's (M, Fortune 500)
35. Bob Sasser, Dollar Tree (DLTR, Fortune 500)
36. Henry Kravis, KKR (KKR)
37. Jamie Dimon, J.P. Morgan Chase (JPM, Fortune 500)
38. Glen Senk, Urban Outfitters (URBN)
39. Geesung Choi, Samsung Electronics
40. Rex Tillerson, Exxon Mobil (XOM, Fortune 500)
41. Reid Hoffman, Greylock Partners
42. Robert Benmosche, AIG (AIG, Fortune 500)
43. Brian Roberts, Comcast (CMCSA, Fortune 500)
44. John Stumpf , Wells Fargo (WFC, Fortune 500)
45. Sergio Marchionne, Fiat/Chrysler
46. Yuri Milner, Mail.ru
47. Lloyd Blankfein, Goldman Sachs (GS, Fortune 500)
48. Doug Oberhelman, Caterpillar (CAT, Fortune 500)
49. Ari Emanuel and Patrick Whitesell, WME
50. Li Li, Shenzhen Hepalink Pharmaceutical