Black Friday 2010's dirty little secrets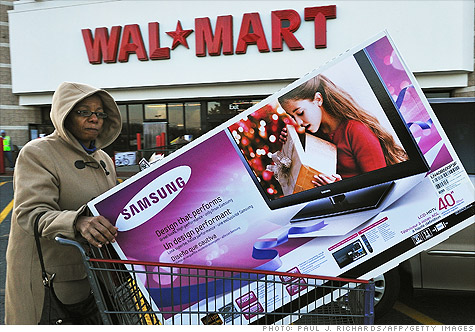 NEW YORK (CNNMoney.com) -- Black Friday bargain hunters beware. There's a good chance you won't score that doorbuster deal you've set your heart on.
Retail experts say the annual hype and hoopla that surrounds Black Friday also masks some nasty surprises.
The most painful: The crushed hopes of hundreds of midnight shoppers, who camped outside for hours in the cold hoping to score a 40-inch LCD HDTV for under $500, only to later learn that the store had four in stock.
That's one harsh -- but all too common -- example of a Black Friday reality that shoppers need to know about before they map out their shopping warplan, said Edgar Dworsky, consumer advocate and editor of Consumer World.
But there are many more. Here's a sampling of Black Friday secrets that CNNMoney.com has flagged for deal hunters:
Limited supplies: Read the fine print on the Black Friday circulars.
Most doorbuster deals -- especially those on big-ticket items like HDTVs and washer-dryer combos -- are in very limited supplies, often only four to six units per store.
So unless you are among the first six on line before stores open on Black Friday for those deals, you're pretty much out of luck.
Retailers use these juicy deals to entice shoppers into their store, that's when the switcheroo happens. Even if you didn't score the bargain you wanted, sellers hope that since you are already there, you'll probably grab some other deals instead.
HDTV deals. Is it the standard model, or a 'derivative?' Some of the holiday electronics with those low sale prices are products with fewer features than a standard model in that product line.
The difference can be subtle and most consumers probably won't even notice, said Dworsky.
Dworsky points out a Samsung 40-inch LCD HDTV for under $500 that has appeared as a doorbuster deal on several retailers' Black Friday circular.
"That model doesn't appear on Samsung's web site. Maybe it was made just for Black Friday," he said. Another red flag, the deal on that TV just lists the deal price and not the regular price of the model.
The lesson for shoppers: Do your own research and check the specifications on those discounted HDTVs.
A Samsung spokesperson was not immediately available to comment for this story.
Avoid bad bling. Jewelry is always a sought-after deal on Black Friday. But experts say consumers should keep some tips in mind before buying their bling this year.
Because of surging gold commodity prices, jewelry manufacturers are paying much more for the precious metal than last year. So one way that jewelers are keeping their own costs, and retail prices down reasonable for consumers, is by selling more gold-plated or gold-filled jewelry.
Many advertised deals on gold jewelry will use phrased such as "gold-filled" or "gold-overlay." This is not the same as solid gold, said Kevin Adkins, a graduate gemologist.
"When you see those terms, know that you're buying silver with a plate of gold coating over it," said Adkins.
If the price is too good to be true on that diamond set, then it probably is. "I saw an online deal for a 1-carat diamond cocktail ring for $431.40. A 1-carat ring sells at least for $1,000," he said.
His advice: Ask about the four C's -- cut, clarity, carat and color -- before buying diamond jewelry and always check return and refund policies on Black Friday deals.
Which Black Friday deals are online? Many retailers will say that their Black Friday in-store deals are available online but they won't tell you which ones, said Dworsky.
"So do I run out and stand on line all night or gamble on the computer all night?" said Dworsky.
The other annoyance with retailers' Black Friday online deals, he said, is that many sellers don't tell you what time the web deals kick in. "Is it just before midnight, at midnight or at the same time that the stores open?" he said.
Don't assume a "price match" policy. Many retailers who typically follow a price-match policy during the year may drop it for the Black Friday shopping weekend.
Again, carefully read fine print on the Black Friday circulars to see which retailers will match the lowest prices on an identical product and which sellers explicitly say the policy will not be in effect.