Stocks skid on Korean hostilities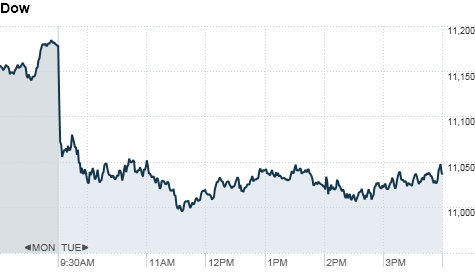 NEW YORK (CNNMoney.com) -- Stocks ran into a wall of worry Tuesday as violence erupted on the Korean peninsula, concerns about Europe's debt crisis expanded and the Federal Reserve issued a dour economic outlook.
The Dow Jones industrial average (INDU) fell 142 points, or 1.3%, to close at 11,036. The S&P 500 (SPX) fell 17 points, or 1.4%, to 1,181. The Nasdaq (COMP) slid 37 points, or 1.4%, to 2495.
The retreat was sparked by an exchange of artillery fire along the disputed sea border between North and South Korea Tuesday morning. The skirmish, which killed two South Korean soldiers and wounded several civilians, was one of the worst since the Korean War of the 1950s ended in armistice.
Dan Cook, chief executive at IG Markets, said thin trading volumes could be amplifying the market's reaction to the Korean hostilities, "but this is still major," he added.
"The uncertainty is so great and the implications could be huge," he said. "People are getting out of risk assets and in some cases going to cash," he added
In the currency market, the U.S. dollar and the Japanese yen both rose sharply. Gold prices and U.S. Treasuries also moved higher as investors flocked to safe haven assets.
The stock declines were broad based. Hewlett Packard (HPQ, Fortune 500) was the only Dow stock in the black. Shares of the computer maker rose 0.9%, after it reported better-than-expected quarterly results.
Chevron (CVX, Fortune 500) and Exxon (XOM, Fortune 500) both fell about 2% as the stronger dollar pressured oil prices. The dollar also weighed on shares of big multinational firms such as IBM (IBM, Fortune 500), Caterpillar (CAT, Fortune 500) and 3M (MMM, Fortune 500).
Concerns about long-term debt problems facing some major European economies had already been hanging over the market this week.
Investors are growing nervous about Spain and Portugal after officials in Ireland officially requested loans from the European Union and the International Monetary Fund over the weekend.
"Portugal is almost assuredly going to take a bailout," said Dan Greenhaus, chief market strategist with Miller Taback & Co. "The question then becomes how much Spain will need," he said, adding that estimates range between $300 billion and $400 billion.
Meanwhile, the Federal Reserve lowered its outlook for U.S. economic growth this year and next. The central bank also projected that unemployment would remain elevated into next year, according to meeting minutes.
But the bleak forecast was expected, and investors are more concerned about geopolitical risks, according to Greenhaus.
Traders said the market could be choppy this week, with many money managers taking time off ahead of the Thanksgiving holiday. All U.S. markets will be closed Thursday.
Wednesday brings reports on personal income and spending, as well as durable goods orders, data on weekly unemployment claims and new home sales for October.
Stocks ended mixed Monday, as shares of big banks fell after federal law enforcement officials searched the offices of three prominent hedge funds, in what is said to be a large-scale insider trading probe.
Economy: The Federal Reserve lowered its estimates for U.S. economic growth this year and next, and raised its outlook for unemployment.
The Fed now expects 2010 gross domestic product to increase between 2.4% and 2.5% this year, compared with an earlier projection of growth between 3% and 3.5%. In 2010, the Fed predicts GDP in the range of 3% to 3.6%, down from the last forecast in June.
Earlier, government data showed the U.S. economy grew at a better than expected 2.5% annual rate in the third quarter, faster than 2% rate previously reported.
The Fed also said the unemployment rate will be between 9.5% and 9.7% for all of 2010. Next year, the bankers believe joblessness could be as high as 9.1%, compared with a previous estimate of between 8.3% and 8.7%.
Minutes from the Fed's most recent policy meeting showed that officials were divided over the central bank's recent plan to boost the economy by purchasing $600 billion in U.S. Treasuries.
On the housing front, existing home sales declined 2.2% to a seasonally adjusted annual rate of 4.43 million in October from 4.53 million in September, according to the National Association of Realtors. Economists had expected a sales rate of 4.42 million in the month.
Companies: Clothing retailer J. Crew (JCG) agreed to be acquired by buyout firms TPG Capital and Leonard Green & Partners for $2.8 billion. Shares of J. Crew rose about 16% shares had been halted most of the morning after rallying as much as 22% in premarket trading.
Blackstone Group's pursuit of electric power provider Dynegy (DYN) has come to an end after activist shareholders objected to the takeover, Dynegy said in a statement.
World markets: The tensions in Korea dragged stock prices lower around the world.
Britain's FTSE 100 and the DAX in Germany both slipped 1.5%, while France's CAC 40 lost 2.3%.
In Asia, South Korea's Kospi index ended 0.7% lower. The Shanghai Composite lost 1.9% and the Hang Seng in Hong Kong dropped 2.7%. Japan's market was closed for a holiday.
Currencies and commodities: The dollar strengthened against the euro and the British pound, but remained weak versus the Japanese yen.
Oil for January delivery slipped 49 cents to $81.25 a barrel.
Gold futures for January delivery rose $19.80 to close at $1,377.60 an ounce.
Bonds: The price on the benchmark 10-year U.S. Treasury rose, pushing the yield down to 2.76% from 2.81% late Friday.