Bush tax cuts: What happens if Congress punts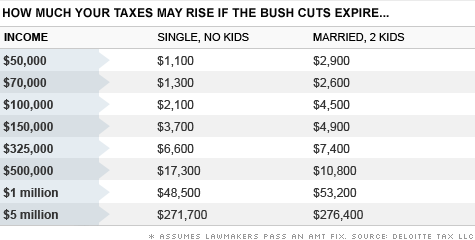 NEW YORK (CNNMoney.com) -- Congress' dithering over the Bush tax cuts could mean smaller paychecks for everyone come Jan. 1 -- no matter what lawmakers decide to do.
Without action, workers will take home less pay because tax rates would rise across the board to their 2001 levels and some key breaks like the refundable child tax credit would be reduced.
But the same may be true even if lawmakers manage to work out a deal before adjourning for the year.
Why? Because the closer to Dec. 31 they make their decision, the less likely it is that employers will be able to adjust their payroll systems, said Scott Mezistrano, senior manager of government relations of the American Payroll Association.
Indeed, Treasury Department spokeswoman Sandra Salstrom told CNNMoney, "We understand that businesses and payroll processors need at least a few weeks to implement new withholding tables."
But even if Congress drags its feet further, there are steps lawmakers or the IRS can take to prevent paychecks from shrinking in January.
For instance, Mezistrano said, the IRS could tell companies to continue using the 2010 withholding tables until Congress renders its decision and the agency is able to issue new withholding tables.
Neither the IRS nor Treasury would confirm that they would be issuing any such directive.
Or the top tax legislation writers from both parties in the House and Senate could tell the IRS to ensure that anticipated changes -- namely, a tax cut extension -- are reflected in its forms and guidance to employers.
That would be similar to what key lawmakers did recently with the Alternative Minimum Tax. They told the IRS to "take all steps necessary" to adjust tax forms to reflect an expected fix that would prevent the middle class from having to pay the AMT.
Another option: Congress could pass a very temporary extension of all the tax cuts into the early part of 2011 to buy lawmakers time to come to agreement on the issue.
Mind your W-4
Whenever Congress finally makes its decision, there's one thing everyone should do, Mezistrano said.
"When all the dust settles, review your W-4 status," he said.
The W-4 is the form that tells your employers how many exemptions you want to take, and those exemptions directly affect the amount of taxes withheld from your paycheck.
The exemptions you take are based in part on how much you expect to claim in deductions and tax credits, several of which would change if some or all of the Bush tax cuts are allowed to expire.
For instance, say Congress does extend the tax cuts on income up to $250,000 but lets them expire on income higher than $250,000. That would mean high-income taxpayers would likely see the amount of their credits and deductions reduced because income restrictions on taking those tax breaks would be reinstated.