2 more openings at top of Obama economic team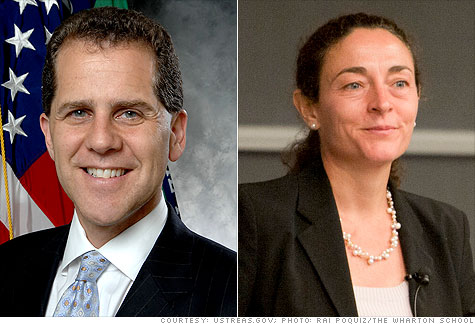 NEW YORK (CNNMoney.com) -- Two more members of the Obama administration economic team are on their way out, adding to a wave of departures in recent months.
Michael Barr, the assistant secretary for financial institutions at the Treasury Department, is leaving the administration and will return to the Ann Arbor, Mich., to continue his academic career at the University of Michigan, a Treasury spokeswoman said.
Also departing is White House National Economic Committee Deputy Director Diana Farrell, who had been rumored as a contender to succeed Larry Summers as the director of the National Economic Council.
Farrell is leaving soon, and it was widely expected she would go after playing a critical role in passing financial reform, a senior White House official told CNN.
In September, Farrell told Fortune that the workload within the White House was intense.
"[F]rom my personal point of view, I have been unbelievably busy," she said. "I come from a culture of hard work and long hours at McKinsey, but these last couple years have been extraordinary. I really haven't given a lot of personal time to reflect on exactly what I am and what I'm not going to do next."
Summers announced in September that he would leave the White House at the end of the year and return to Harvard, and his successor has yet to be named.
Summer was the third top economic aide, after budget wonk Peter Orszag and policy adviser Christina Romer, to leave the White House in short order.
Romer has since been replaced by Austin Goolsbee, a longtime Obama adviser, and Jacob Lew has taken over for Orszag at the Office of Management and Budget.
It is not uncommon for turnover to peak two years into a new administration, but persistently high unemployment and tepid economic growth have lead to calls for change within the president's economic team.
The departures of Farrell, Barr and Summers, as well as an opening at the top of the new Consumer Financial Protection Bureau leaves Obama with at least four key positions to fill as the administration seeks to steady itself after the crushing midterm elections.
The economic team departures come just one day after CNN learned that senior adviser David Axelrod is planning to leave his White House post as soon as immediately after the State of the Union address, which is an earlier departure date than originally expected.
David Plouffe, the architect of Obama's 2008 campaign, will join the White House staff at the beginning of January to work alongside Axelrod for a brief time before Axelrod moves on to help run the re-election campaign.
- Charles Riley is a CNNMoney staff reporter. Ed Henry is senior White House correspondent at CNN.