Chevrolet Volt's official MPG: 60 mpg (sort of)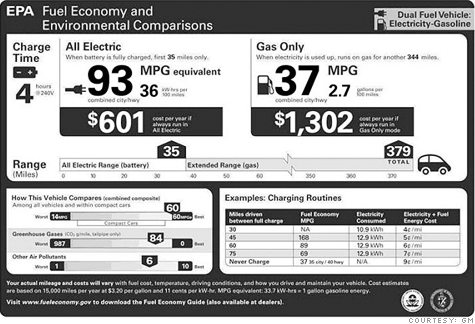 NEW YORK (CNNMoney.com) -- The U.S. government has finally decided what fuel economy figures to put on the Chevrolet Volt, General Motors said Wednesday.
The final figure is 60 miles per gallon, but because it can run on electricity, gasoline, or a combination of both, the EPA fuel economy label is going to look a little different from the ones used on other cars.
Because of the complexity of how the Volt operates, the fuel economy label will contain a host of other numbers so consumers can at least try to figure out what their own fuel economy will actually be.
Hint: It probably won't be 60 mpg.
The Volt, according to a preliminary Environmental Protection Agency label presented by GM, will get an estimated 93 miles per "gallon-equivalent" when driving under electric power only, 37 miles per gallon when burning gasoline and, over the long term, is estimated to get 60 miles per gallon in combined gasoline-powered and electric-powered driving.
One "gallon-equivalent" of electricity is the amount of energy one gallon of gasoline would contain. For example, the EPA recently rated the electric-only Nissan Leaf at 99 "miles per gallon equivalent."
According to the EPA label, the Volt can drive an estimated 35 miles on electricity stored in its battery before a gasoline engine comes on.
The 60 mpg figure, however, combines the miles-per-gallon figure, when running on only gasoline, and miles-per "gallon equivalent" number, when running on only electricity. Depending on how and how much they drive, consumers could actually be using considerably less gasoline than the 60 mpg figure would indicate.
The puzzle of how to rate the Volt's fuel economy has been especially difficult and the car's real-world fuel economy will vary enormously from driver to driver.
A driver who only commutes a few miles a day could use no gasoline at all for weeks or months, provided the car's battery is always recharged before running down. Whereas a driver that tends to do more long-haul driving would likely burn more gasoline.
GM executives said the label that will appear on early versions of the Chevrolet Volt is preliminary. The way the figures are displayed on the label may change in the future.