Black Friday: It's busy out there!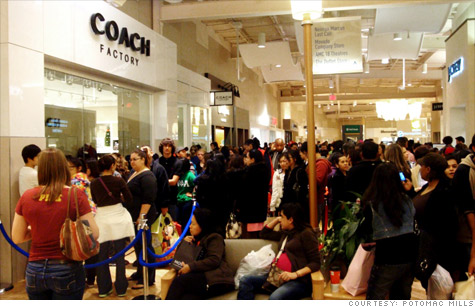 NEW YORK (CNNMoney.com) -- Larger-than-expected crowds jammed the nation's malls and discounters on Black Friday, elbowing each other in the race for the biggest deals on one of the biggest sales days of the year.
Black Friday, the day after Thanksgiving, typically marks the start of the annual holiday gift-buying marathon. This year, retailers are eager to rev up their holiday sales as soon as possible to make up for the past two lackluster holiday seasons.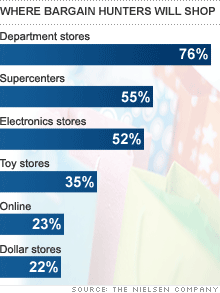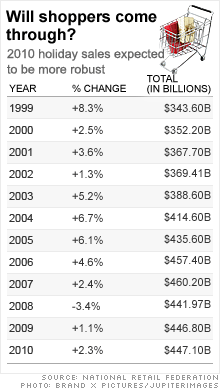 So for bargain hunters who kick off their gift shopping Friday, merchants have made the deals especially sweet, particularly on key holiday favorites such as toys and electronics -- and it seems to be working.
"We had the best turnout yet. We had an estimated 1,800 people waiting to get in at midnight," said Nick Nicolosi, general manager of the North Point Mall in Alpharetta, Ga.
Nicolosi said midnight shoppers made a beeline for deals on gaming consoles such as the Sony (SNE) PS3 and Nintendo Wii bundle, and Apple (AAPL, Fortune 500) iPad and iPod accessories.
Clothing was another hot category. Shoppers filled up their bags at trendy specialty chains such as H&M, Forever 21 and Victoria's Secret with party dresses and lounge wear. Ugg boots also emerged as another hot holiday purchase.
Toys R Us didn't even wait until Friday to launch its Black Friday bargain bonanza. For the first time in the chain's history, all of Toys R Us' stores opened at 10 p.m. on Thanksgiving instead of the usual midnight opening.
Early start pays off: The two-hour head start paid off, according to Toys R Us CEO Gerald Storch.
"I've been getting reports from all over the country and the lines have anywhere from between 500 to 1,000 people at every Toys R Us store nationwide," he said.
Gaming consoles, electronic toys, dolls and and boys action figures were hot sellers at Toys R Us, he said.
Brian Dunn, CEO of No. 1 electronics chain Best Buy (BBY, Fortune 500) which opened at 5 a.m., said lines outside stores were larger than last year and registers "have been going non-stop."
"Our doorbusters have been selling out and there's lots of interest in laptop deals," Dunn said.
Gabriella Serrado of Sunrise, Fla., was a happy Best Buy customer.
"This year I was able to plan my shopping a lot better. I started at Kohls which opened at 3 a.m. and then I headed over to Best Buy," Serrado said.
"Best Buy [has] learned from the past. Instead of having the cashiers at the front of the store, they placed credit card only registers all around the store, so our wait in line was less than 30 minutes," she added.
Serrado said she bought a 46-inch LED TV set that came with a Blu-Ray DVD player. She also purchased a Mac computer -- something she was waiting to buy, but a $125 gift card thrown into the deal made it impossible to resist.
Macy's stores, which opened at 4 a.m., also attracted large crowds. At its flagship store in New York City, 7,000 waited for the doors to open, said CEO Terry Lundgren. "That's versus the 5,000 people who waited last year," he said.
But is the customer traffic translating into robust sales?
"I have been walking through the store to see that. I've seen lots of red bags, plenty inside the store and outside of it," he said.
Lundgren's hoping that Macy's sales success this holiday comes from its recent strategy of matching merchandise and prices to consumers' tastes and preferences in local markets.
Wal-Mart (WMT, Fortune 500), the nation's largest retailer, opened all of its more than 4,000 U.S. stores at midnight Friday with deep deals on HDTVs, GPS devices, laptops, toys and clothing.
The retailer promised consumers that it would offer the most aggressive Black Friday deals, and even match a competitor's lower price on any identical product.
The scene at a Wal-Mart supercenter on New York's Long Island was pretty busy -- but minus the chaos that has been seen in recent years.
As hundreds of shoppers poured into the Wal-Mart store, one of the most sought-after doorbuster deals -- the 32-inch Emerson flatscreen TV for $198 -- was sold out shortly after midnight.
A Wal-Mart spokesperson said Friday that the Emerson flatscreen TV was the most popular electronics item of itd doorbuster offerings. The hottest toy item was a 10-pack of Mattel Hot Wheels cars for $5.
The spokeswoman said the retailer expected to sell enough HDTVs on Friday to cover 105 football fields and enough cameras to stack taller than 320 Empire State Buildings.
Shopping 'strategically'
Compared to last year, consumers seems to have better thought out their Black Friday shopping strategy, said Marshal Cohen, lead retail analyst with NPD Group.
"Because of stores staggering their Black Friday openings from midnight to 5:00 a.m., this has really helped shoppers plan their moves," he said.
"Shoppers are being more strategic and less impulsive," he said. "They have done their homework on who has the best deals, they have a little bigger budget this year but they're sticking to it, and they're not rushing into a big-ticket purchase."
Despite expectations of a blowout sales day for HDTVs, Cohen said once the doorbuster TV deals are sold out, other TV deals don't appear to be faring as well.
"But cameras are doing well," Cohen said. The biggest surprise to him is the popularity of kitchen appliances.
At Sears, many customers grabbed doorbuster deals but many others also aggressively used Sears' Layaway for big-ticket items, said Sears' spokesman Tom Aiello .
Wal-Mart and Target (TGT, Fortune 500) both set deep Black Friday deals on toasters, coffeemakers and other appliances, with prices at $3 and less.
"Personally, I wouldn't gift anyone anything that comes with a plug, but appliances are selling out," he said.
All of Disney's retail stores, which opened at midnight, experienced a robust start on Black Friday, said Disney Store president Jim Fielding.
"Historically, the Black Friday weekend is a barometer for retailers' holiday sales season," said Fielding. "We've seen lines around the block at our stores."
Still, Fielding said consumers are very conscious of value and are "strategically driven."
The holiday season is critical to retailers since combined November-December sales can account for as much as 50% of stores' sales and profits for the full year.
Holiday sales are forecast to increase 2.3% this year, according to the National Retail Federation. That will be an improvement from last year's anemic 0.4% holiday sales gain and a dismal 3.9% sales decline in 2008.
More than 138 million shoppers are expected to shop this Black Friday, up 3% from last year, the NRF said.
For those who missed Friday's deals, consumers can try again when e-tailers trot out their holiday discounts in the coming week on Cyber Monday. Research firm ComScore expects an 11% increase in online sales from last holiday season.
---Are you a Black Friday shopping fanatic? Tell us about your experience this year. Email your response to parija.bhatnagar@turner.com and you could be part of an upcoming article. For the CNNMoney.com Comment Policy, click here.
-- Staff reporter Annalyn Censky and staff writer Aaron Smith contributed to this report.